Pakistan Today: Govt brewed PTV attack to concoct cases against me: Qadri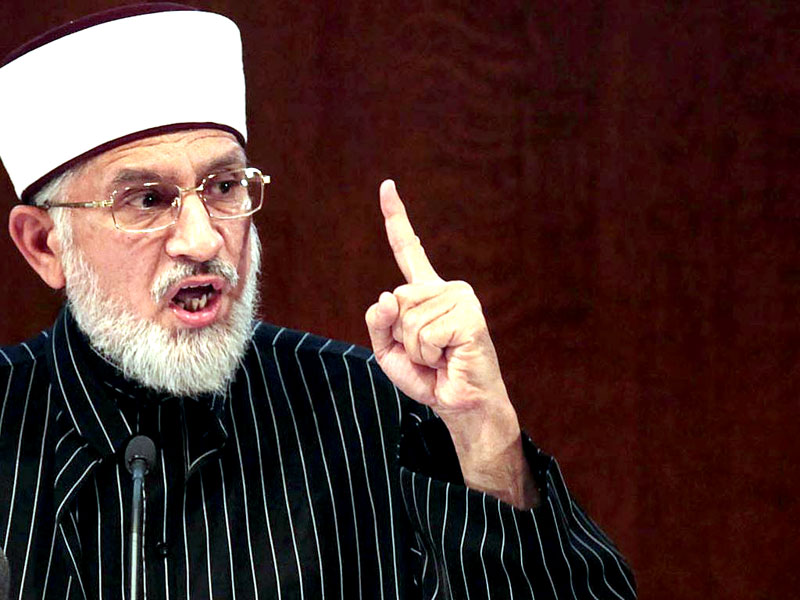 PAT chief vows to land in Lahore on Nov 20, looks towards army chief to provide justice to Model Town victims
PAT leaders deny PTI has invited them to attend its Nov 30 rally, give schedule of party's rallies across country starting Nov 23
Pakistan Awami Tehreek (PAT) Chairman Dr Tahirul Qadri said Monday that the attack on PTV and Parliament House was the government's manoeuvring to build phony cases against him while adding that no power on earth could stop him from returning to Pakistan on November 20.
The PAT leadership has, however, denied receiving any invitation for Pakistan Tehreek-e-Insaf's (PTI's) rally on November 30, and stated that the party leadership still has to decide whether it will attend the anti-government rally of its 'cousins' or not.
Talking to reporters at Heathrow Airport in London, Qadri dismissed allegations that his party organised an attack on Parliament and Pakistan Television (PTV) headquarters in Islamabad. Instead, he alleged that these attacks were planned by the government itself. He further stated that those who entered the premises of PTV did so to protect themselves from police firing.
"Is declaring me a proclaimed offender part of the deal?" he questioned.
Referring to the Model Town tragedy, Qadri said that his party has rejected the joint investigation team constituted by the Punjab government. He again appealed to Pakistan Army chief General Raheel Sharif to intervene to provide justice to the victims.
Qadri vowed to seek vengeance for the deceased of Model Town tragedy and demanded a judicial investigation team from outside Punjab.
He said travelling abroad is not against the law and he has to travel a lot to conduct conferences, addresses in addition to organising and expanding PAT worldwide, adding that his mission is international.
NO INVITATION YET:
Meanwhile, addressing a press conference on Monday, PAT leader Hanif Mustafvi said that the PAT leadership is still undecided over attending PTI's November 30 protest. He denied that the PTI leadership had invited PAT leaders and workers to attend the rally.
Mustafvi said that the PAT chief will arrive at Lahore airport on November 20 and the government should arrest him if it has the courage to do so.
"Our party will hold public meetings in Bhakkar on November 23 and later public meetings will be held at Mianwali, Sargodha and Mansehra. On November 25, PAT's public meeting will take place at Mazar-e-Quaid-e-Azam," he added.
The PAT leader alleged that the government's negotiating team did not have any powers.
"PAT's and government's negotiating teams reached a consensus on the formation of an investigation team but the government refused to accept the decision," he said.
PAT leader Omar Riaz Abbassi said that five months have elapsed since the occurrence of Model Town tragedy but only a First Information Report (FIR) has been registered so far.
"We had placed three major demands including resignation of Punjab Chief Minister Shahbaz Sharif, constitution of a joint investigation team comprising representatives of Inter-Services Intelligence (ISI), Military Intelligence (MI) and Intelligence Bureau (IB) with its head from Khyber Pakhtunkhwa. No progress has been made in this regard," he pointed out.
Abbassi said the his party does not trust the team constituted by the government as it does not trust Balochistan CPO Razzaq Cheema, adding that the army chief should ensure justice to PAT.
Dubbing Information Minister Pervaiz Rashid as "minister for disinformation", the PAT leader said that Qadri's passport is valid up to 2015 and there is no need to renew it at the moment.
Source: www.pakistantoday.com.pk
Source : http://www.pakistantoday.com.pk/2014/11/17/national/govt-brewed-ptv-attack-to-concoct-cases-against-me-qadri/