Samaa News: Qadri renews call for CM Sharif's resignation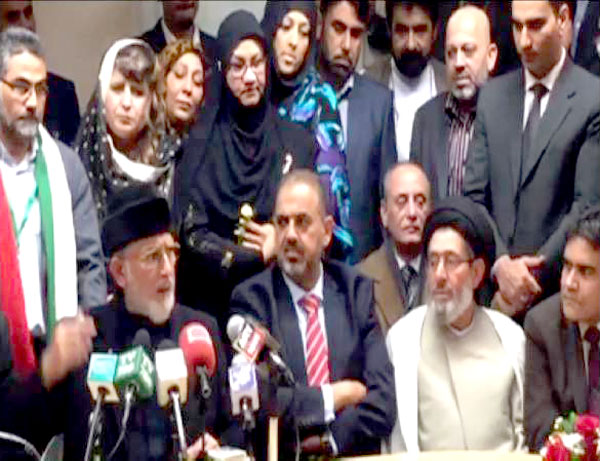 LONDON: Pakistan Awami Tehreek (PAT) chief Allama Tahir-ul Qadri has reiterated his demand for the resignation of Punjab Chief Minister Shahbaz Sharif in connection with the Model Town tragedy.
Addressing a press conference here on Monday night, Qadri said that justice would not be served until Chief Minister Shahbaz Sharif stepped down from his position.
"Registration of cases and subsequent arrest warrant is a cowardly move by the government, but no power can stop me from returning to Pakistan," he said.
Qadri lamented that the judicial commission's report about the Model Town incident was not made public.
To a question, he termed the new JIT a government's conspiracy to hush up the issue and demanded the JIT chief should be taken from Khyber Pakhtunkhwa.
He also recalled that political jirga had agreed on the formation of an impartial investigation commission. – SAMAA
Source: www.samaa.tv
Source : http://www.samaa.tv/pakistan/18-Nov-2014/qadri-renews-call-for-cm-sharif-s-resignation-impartial-jit