Daily Times: Catch me if you can: Qadri dares govt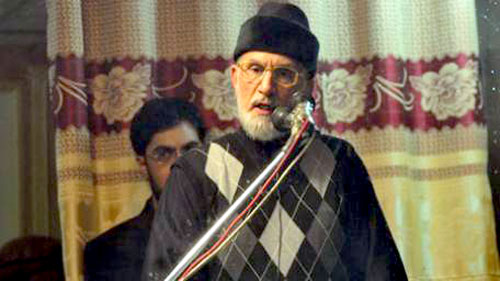 LONDON: Pakistan Awami Tehreek (PAT) chief Tahirul Qadri said on Monday that the Nawaz government cannot dare to arrest him.
Talking to media in the British capital, Qadri said that he is ready to be arrested 100 times but the government cannot dare to do so. He said no power on earth could stop him from returning to Pakistan. The controversial cleric again dismissed the notion he had travelled abroad as a result of a deal with the government. "Is declaring me a proclaimed offender part of the deal?" he questioned and added he would continue to visit Europe, North America and other countries as part of his international commitments relating to Minhajul Quran and his party.
Qadri dismissed the allegations that his party organised an attack on parliament and state-run Pakistan Television headquarters in Islamabad. Instead, he alleged, these attacks were planned by the government itself. Referring to Model Town tragedy, Qadri said that his party has rejected the joint investigative team constituted by the Punjab government. Qadri again appealed to the army chief to intervene to provide justice to the victims. He urged Chief of Army Staff General Raheel Sharif to use his influence to get a free, fair and impartial investigation team appointed to probe the Model Town incident. Qadri said that it is not the first time that the army has been called to investigate a killing. Referring to the killing of four sessions and civil judges, who were murdered inside the Sialkot jail, he said the chief justice of the Lahore High Court had requested the Pakistan Army to help appoint an impartial investigation team to investigate the killings.
Source: www.dailytimes.com.pk
Source : http://www.dailytimes.com.pk/national/18-Nov-2014/catch-me-if-you-can-qadri-dares-govt