The News: Tahirul Qadri wants Army Chief's role in Model Town case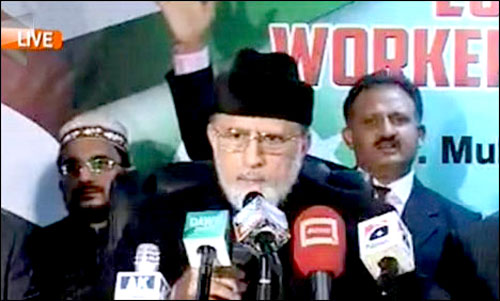 LONDON: Pakistan Awami Tehreek (PAT) leader Dr Tahirul Qadri Tuesday said the Chief of Army Staff General Raheel Sharif should play his role in the Model Town case.
"We are not demanding anything that can be labeled as undemocratic; we want justice," said Tahirul Qadri while talking to media representatives here.
He said his party did not accept the inclusion of the Punjab policemen in the Joint Investigation Team (JIT) tasked to probe the Model Town tragedy.
Earlier, the government had announced a five-member team to investigate the Model Town incident.
The five-member team is headed by CCPO Quetta Abdul Razzaq Cheema and comprises Col Ahmed from Inter Service Intelligence (ISI), Muhammad Ali from Intelligence Bureau (IB) and SSP Shahzad Akbar and DSP Khalid Abu Bakar from Police.
He said the government can go ahead and put him under arrest but warned that such an action would spread unrest across the country.
Source : http://www.thenews.com.pk/article-166154-Tahirul-Qadri-wants-Army-Chiefs-role-in-Model-Town-case