Tribune News: Model Town tragedy: New JIT rejected by PAT leadership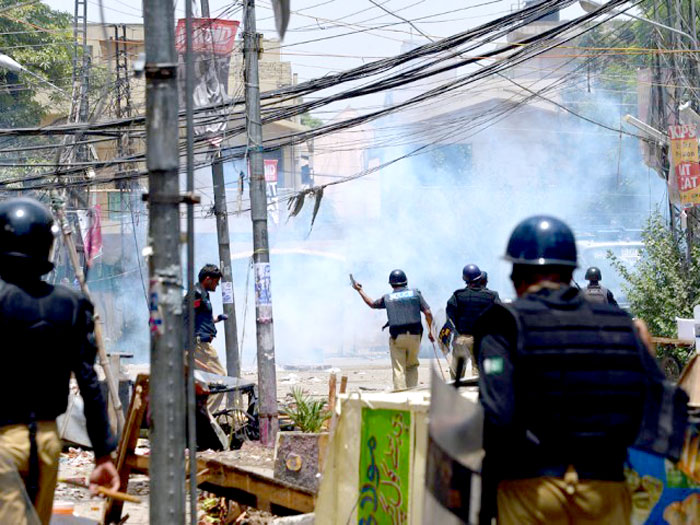 LAHORE: The Punjab government, after dragging its feet over formation of a second Joint Investigation Team (JIT) based on the August 28 FIR lodged by Minhajul Quran (MuQ), has finally formed a new investigation team. But before this team starts work on Wednesday, the Pakistan Awami Tehreek (PAT) has rejected it.
The new five-member JIT will be headed by CCPO Quetta Abdul Razzaq Cheema, AIG Discipline at CPO SSP Shehzad Akbar, DSP CIA Khalid Abubakar and one official each from the Inter Services Intelligence (ISI), Intelligence Bureau (IB).
The team will probe the June 17 Model Town incident when a clash between police and MuQ workers left 14 people dead and over 90 injured.
An FIR of the incident was lodged by police against Minhajul Quran activists on the same day the incident had taken place. However, a report on the complaint of MuQ administration was lodged two months after the incident, naming PM Nawaz Sharif, CM Punjab Shahbaz Sharif, MNA Hamza Shahbaz, and 14 other high profile Pakistan Muslim League-Nawaz (PML-N).
Last week, the Punjab government had formed a new JIT under CCPO Quetta Abdur Razzaq Cheema after negotiations with MuQ.
However, the PAT has rejected the new JIT.
PAT president Raheeq Abbasi told The Express Tribune that his party will not take part in the new JIT's inquiry.
"The government agreed that the JIT head should be one who is trusted by PAT," he said, adding that they had informed the government they will not trust any officer from the Punjab police.
"Cheema, though serving in Baluchistan, hails from Punjab and is very close to the PML-N, while the other two police officers are serving in the Punjab police, and are from the same province," he said.
"Hence, an impartial inquiry under him is not possible. We cannot accept an investigation team constituted to safeguard the PML-N, and its leaders."
He added that the Punjab police stood accused in the case, adding that "how it could be a part of the investigation while no one from PAT is part of it?"
Abbasi added that his party had no objections over Shahid Hayat, or any other person nominated by IG Khyber-Pakhtunkhwa Nasir Durrani while claiming that the government had nominated an official from the IB unilaterally.
"Only one person from the ISI means nothing if the team is headed by a partial officer. All he can do is to write a dissent note at the end of the investigation, which was done in investigation report of the first JIT."
The PAT leader said that his party now believes that an impartial inquiry is only possible if CM Punjab Shahbaz Sharif resigns from his post. "This [his resignation] is our sole demand now."
"Police officers from Punjab, who are serving in Punjab police will never be able to summon CM Punjab or PM for interrogation and hence, the JIT would serve no purpose," he added. "Therefore, the police officers should show moral courage and refuse to take part in new JIT's investigation."
On the other hand, a senior police officer requesting anonymity told The Express Tribune that by utilising its 'discretionary powers' the police had already filed an FIR in such a way that Prime Minister Nawaz Sharif and Punjab Chief Minister Shahbaz Sharif have been spared from either joining the investigation or being immediately arrested.
The official, while citing court orders in the six-page FIR, said the police have maintained that "the registration of FIR against the petitioners (federal ministers) shall not prove their guilt till there is a decision by court of competent jurisdiction. It cannot be used as substantive piece of evidence against any accused unless proved in accordance with law."
Source: www.tribune.com.pk
Source : http://tribune.com.pk/story/793266/model-town-tragedy-new-jit-rejected-by-pat-leadership/