MWF : 5 Million Rupees for Earthquake Fund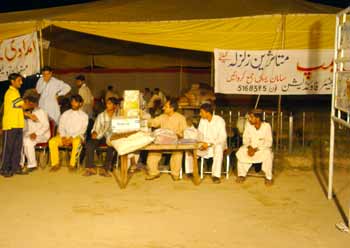 "Minhaj Welfare Foundation has set up an emergency Earthquake fund of 5 million rupees for the victims of the Earthquake and more than 5 million will be spent for the victims of the earth quake" Today this announcement was made by Shaykh ul Islam Dr Tahir ul Qadri. Shaykh ul Islam also expressed his grief and sorrow and insisted all the affiliates and members of Minhaj ul Quran to participate whole heartedly to help the fellow Muslim brothers and sisters at this state of national disaster.
Minhaj Welfare Foundation has immediately reacted for the help of the victims of the Earthquake. Teams of MWF are now in Mansehra and parts of Kashmir which are the worst hit, helping the helpless. Further MWF teams of doctors along with an ambulance, medicines, blankets and food items are leaving for Muzafarabad tomorrow.
The main base camp of MWF has been set up in Rawalpindi/Islamabad from where the relief aid is being managed for the injured and helpless victims of earthquake.
More than 31 camps of MWF have been setup today in different parts of Pakistan, especially in Punjab where items are being collected for the victims. All the affiliates, members and centers of Minhaj ul Quran in the foreign world are actively playing their role in collection of the donations from the local community for the victims.
Further Teams of doctors and therapists are being managed by MWF from U.K and Denmark to assist medical support as well as therapy to the ones who are left behind after this devastated earthquake.
FOR DONATION IN PAKISTAN
MINHAJ WELFARE FOUNDATION
ACC NO: 1269-69
Habib bank Limited
Minhaj ul Quran Branch
Lahore Pakistan
Tel:042-111-140-140
For DONATIONS FROM THE FOREIGN WORLD PLEASE CALL our Head office in U.K
0044-1282-723456