Sit-in was just one chapter of revolutionary struggle: Dr Tahir-ul-Qadri addresses Federal Council meeting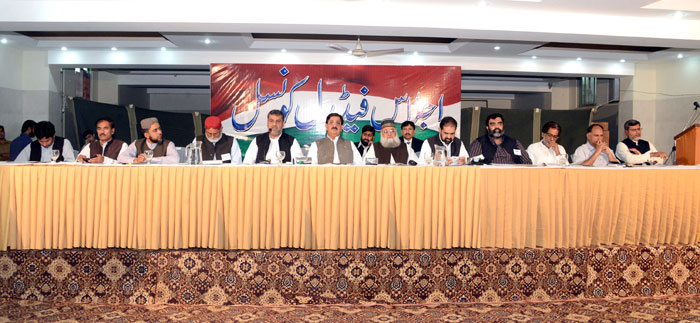 PAT leader Dr Muhammad Tahir-ul-Qadri has said that sit-in was just one chapter of our revolutionary struggle whereas the whole book is still left. He said that political leadership has kept the country and its people hostage on the basis of looted wealth. He asked what democracy and justice system it is in which over one thousand armed police officials raid MQI secretariat at night and fire directly at the workers including the women 14 people are martyred while 85 of them sustain critical injuries but not even a single constable is arrested.
Dr Tahir-ul-Qadri expressed these views while addressing the Federal Council of PAT from Canada yesterday. More than 700 members belonging to Punjab, KPK, Sindh, Balochistan, GB and Azad Kashmir attended the meeting of the Federal Council. The meeting continued for 14 hours in which the PAT chief held detailed deliberations on the upcoming local government elections, reorganization of PAT and future political course of action. He got suggestions from the members of Federal Council on these matters.
Dr Tahir-ul-Qadri said that educated, determined and politically aware youth is with Pakistan Awami Tehreek only. He said that the youth proved by waging a struggle against fake system in the sit-in that these young people of PAT would bring about change in the country and restore usurped rights of 200 million masses. He said that PAT would not leave the political arena unattended for corrupt and fake political leadership. He instructed the PAT workers across the country to focus on matters related to upcoming local government elections, future political strategy and Model Town tragedy.
Talking about Model Town tragedy, Dr Tahir-ul-Qadri said that no gimmickry or shrewdness of rulers can make them escape from punishment. He said that there is no change in our stance on the Model Town incident and it is the same today as it was on the evening of June 17. He said that he was proud of his workers who rejected all pressures and offers of heaps of money made by the rulers. He said that the government neither succeeded in buying our workers nor breaking their courage. He said that only the PAT has these great workers. He said that they would leave no stone unturned to bring about real democracy in the country and rid the masses of corruption and misgovernance.