Dr Qadri serving humanity in the real sense: Norwegian diplomat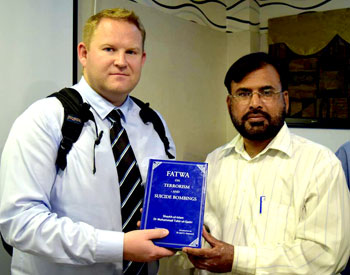 Sohail Ahmad Raza, Director Interfaith Relations of MQI, held a meeting with the first secretary of Norwegian Royal Embassy Mr. Thomas Rimburdal. Raza apprised the first secretary about efforts and contributions of PAT chief Dr Muhammad Tahir-ul-Qadri for promotion of peace, interfaith dialogue, and harmony and for eradication of terrorism in the world. He informed the diplomat that the Directorate of Interfaith Relations is working in over 90 countries of the world and its mission is to build bridges and help initiate dialogue between various cultures, religions and civilizations etc. Sohail Ahmad Raza gifted a copy of world renowned Fatwa of Dr Tahir-ul-Qadri against terrorism and suicide bombing.
Speaking on the occasion, Mr. Thomas Rimburdal appreciated the services of Dr Tahir-ul-Qadri in multiple fields particularly in the realm of education. He said that Dr Qadri has played a tremendous role in promoting girls education, which is his signature service to the humanity. He said that MQI has done extraordinary work in a short span of time. He said that Fatwa issued by Dr Qadri to crush terrorism was need of the hour. He said that the PAT chief is working for promotion of peace and love in the world and we hold him in high esteem. He said that Dr Qadri is working to avoid clash of civilization, which is a great service to world peace and humanity.