Dr Tahir-ul-Qadri returning home on June 29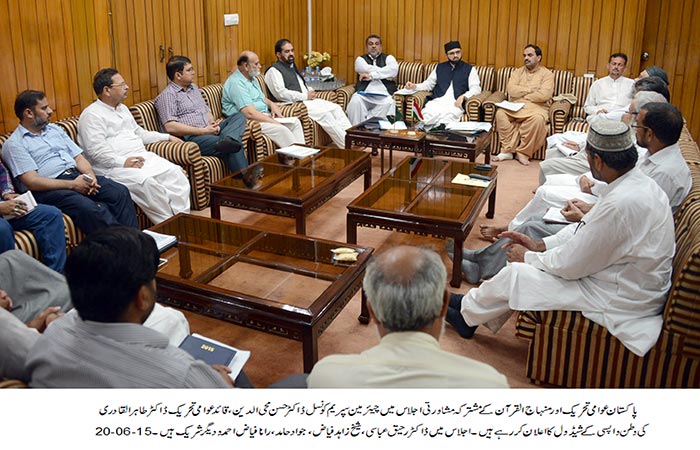 PAT chief Dr Muhammad Tahir-ul-Qadri will land at Allama Iqbal International Airport Lahore at 7:00 a.m. on the morning of June 29, 2015. The PAT leader will leave London aboard flight no. EK002 at 2:00 p.m. and will reach Dubai on June 29. After a brief stay in Dubai, he would start for Pakistan aboard flight no. EK624.
The formal announcement of schedule of the PAT chief's return to the country was made by a consultative meeting of Pakistan Awami Tehreek and Minhaj-ul-Quran International here at the central secretariat. The Supreme Council Chairman Dr Hassan Mohi-ud-Din Qadri presided over the meeting, whereas Dr Raheeq Abbasi, Sheikh Zahid Fayyaz, Ahmad Nawaz Anjum, Rafique Najam, Qazi Faiz, Noorullah Saddique, Allama Farhat Hussain Shah, Farah Naz, Irfan Yousuf, Sohail Raza, Jawad Hamid, and the heads of other forums attended the meeting.
A committee was also established to oversee arrangements for reception of Dr Tahir-ul-Qadri in the meeting. The participants of the meeting expressed happiness on the formal announcement of schedule of Dr Tahir-ul-Qadri's return and prayed for his good health.
The participants of the consultative meeting severely criticized increase in duration of load-shedding in the country. They demanded that both the ministers of water and power should be sacked and the Prime Minister should come on TV to explain unwarranted and painful increase in the load-shedding. He should tell the nation as to why load shedding has been increased in the holy month of Ramzan despite the promises of no load-shedding during Sehr and Iftar.
The meeting warned the government that if the power outages did not end, which caused massive inconvenience to the people during the holy month, PAT will be left with no option but to stage sit-ins and protest the power cuts throughout the country.
PAT President Dr Raheeq Abbasi asked the government to stop fooling the nation through fake announcements. He said that people want to know where are Nandipur power plant, Quaid-e-Azam Solar Park and dozens of MOUs inked to generate electricity. He said that the reality of the rulers' claims about power projects was exposed on the first day of fasting. He said that the rulers should end extended durations of load-shedding of power outages, otherwise there will be massive protests in every town and city of the country.