Corruption, terrorism & bad governance eating into vitals of state and society: Dr Tahir-ul-Qadri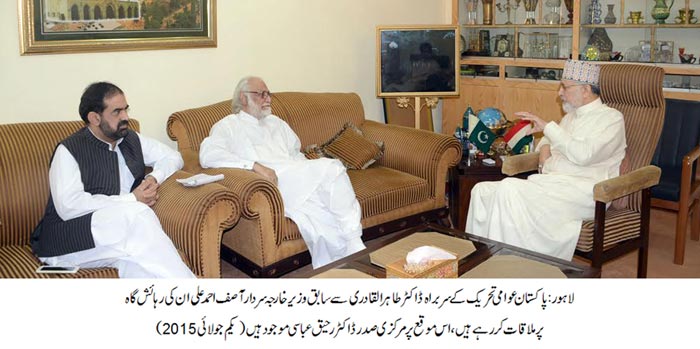 PAT Chairman Dr Muhammad Tahir-ul-Qadri has said that terrorism, corruption, and bad governance are similar ills with lethal consequences for the state and society. He said that load-shedding, price hike and people's problems increased during the holy month of Ramazan. He said that if the rulers cannot give people water, electricity, justice, and employment, they have no reason to stay in the corridors of power. He said that the matter of 1500 deaths due to load-shedding was pushed under the carpet as a consequence of the so-called 'politics of reconciliation.'
Dr Tahir-ul-Qadri expressed these views while talking to former Federal Minister for Foreign Affairs Sardar Aseff Ahmad Ali who called on him at his residence yesterday. Chairman Supreme Council Dr Hassan Mohi-ud-Din Qadri, PAT President Dr Raheeq Ahmad Abbasi, Sheikh Zahid Fayyaz, Qazi Faiz-ul-Islam, and Raja Zahid were also present on the occasion.
Dr Tahir-ul-Qadri said that multiple crises such as terrorism, energy deficits, and corruption have undermined the foundations of the country. He said that the present rulers were trying to hush up the mega corruption scandal for last two years but the Supreme Court has called for a report of these scandals. He hoped that like Operation Zarb-e-Azb, the operation against corruption of the current rulers will also reach its culmination stage.
Dr Qadri said that the responsibility to implement the 80% of the National Action Plan against terrorism was on the shoulders of the rulers which they have failed to fulfill, for elimination of terrorism and extremism is not part of their priorities. He said that the terrorists have gone underground due to the military operation, which explains why peace has returned to the land. He said that as for as dismantling the nurseries of terrorism and making conscious efforts to change the radical mindsets is concerned, which was the work of the present government, no headway seems to have been made despite passage of 7 months. He said that the rulers handed over the NAP to the military and got busy with running metro buses and construction of motorways and roads because these offer vast opportunities of kickbacks and commission.
The PAT chief said that he will soon expose the government's criminal role in thwarting and sabotaging the National Action Plan. Talking about the Model Town tragedy, he asked the influential sections of society such as journalists, opinion makers, social and human rights activists and intellectuals to raise voice for justice for the martyrs of Model Town tragedy, which is the biggest ever incident of state terrorism and human rights violations, adding that they should come forward and play their due role in bringing the powerful perpetrators of this heart-rending tragedy to justice. He said that we have protested this state terrorism at national and international levels. He said that we would continue to raise our voice and project the case of the Model Town victims at every legitimate forum. He said that punishment to those who are responsible for Model Town tragedy will serve as deterrence to others and go a long way in freeing the society from the clutches of the power drunk people.
Speaking on the occasion, Sardar Aseff Ahmad Ali said that he supported Dr Tahir-ul-Qadri in his struggle against oppression, injustice, and for restoration of people's rights and supremacy of the constitution, adding that he would continue to stand by him in future as well.