Dr Tahir-ul-Qadri visits central secretariat, meets office bearers & staff members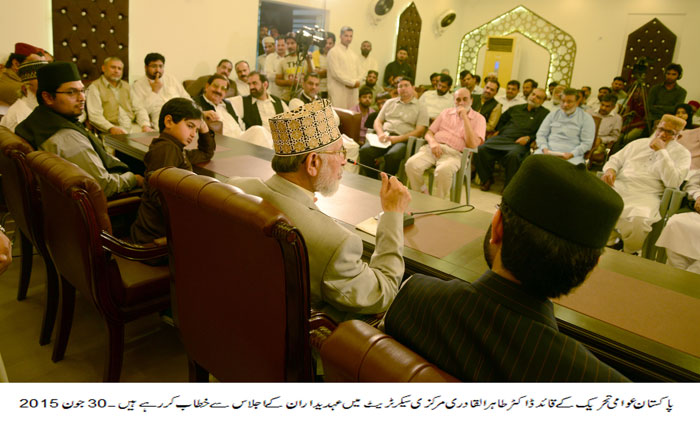 PAT Chairman Dr Muhammad Tahir-ul-Qadri visited the central secretariat of PAT and MQI on Tuesday and held a meeting with party office bearers, presidents and secretary generals of various forums, heads of different directorates and old staff members. He shook hands with each one of them individually and enquired after them.
On his arrival, Dr Tahir-ul-Qadri went to Gosh-a-Durood and inspected the marks of bullets on the windows of the building. He remained quiet for some time after observing the site. He presided over an informal meeting held in the central secretariat, which was attended by key office holders of PAT, MYL, MWL, MSM, and Ulama Council.
Speaking on the occasion, Dr Tahir-ul-Qadri said that the complicated nature of his illness and propaganda of the opponents could not demoralize him or dent his resolve. He said that ultimately his health condition will have to be equal to his determination. He said in his emphatic and characteristic style that Allah Almighty has endowed on the workers of MQI and PAT the power and courage to articulate truth when it needs to be said. He said that exemplary reception accorded to him on the day of his arrival has proved that the zeal and zest of his workers is even greater than before. He said that vindictive actions of the government and baseless propaganda could not make them backtrack from their mission.
In an emotional tone, Dr Tahir-ul-Qadri said that he was greatly missing his martyred sons and daughters. He said that every one of his workers is a very precious asset, adding that he has spent his life so far to make them what they are today. He said that he would never forgive those who sprayed bullets on his workers. He said that oppressive rulers will reach their end one day. He said that those who perpetrated violence and committed oppression on innocent people will leave this world after accounting for their crimes.
On arrival in the central secretariat, Dr Tahir-ul-Qadri was received warmly by Dr Hassan Mohi-ud-Din Qadri, Dr Hussain Mohi-ud-Din Qadri, Sahibzad Faiz-ur-Rehman Durrani, Dr Raheeq Ahmad Abbasi, Khurram Nawaz Gandapur, and Aamir Farid Koreja. The PAT chief welcomed Shahzad Syed on joining the party. He also congratulated the newly elected office holders of PAT.