Protecting youth from influence of 'Khawarij' & radicalism is my mission: Dr Tahir-ul-Qadri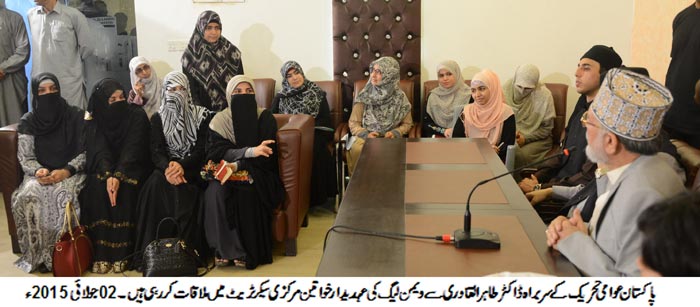 PAT Chairman Dr Muhammad Tahir-ul-Qadri has said that politics and rule of those who have plundered the country and used the youth as fodder for their political canons will be wiped out. He said that highly talented and educated youth, who have made their mark at international level, are forced to commit suicide due to corrupt leadership and cruel system.
Dr Tahir-ul-Qadri made these remarks while talking to a delegation of Minhaj Women League that called on him yesterday. Mrs. Farah Naz, president of MWL, led the delegation.
Dr Qadri congratulated Mrs. Farah Naz for her leadership role in organizing and activating Minhaj Women League. He said that he could claim with pride that the PAT is the only political party, which has such a huge representation of the highly qualified women and girls, who are second to none in terms of decency, patriotism, and sense of responsibility. He said that great political service rendered by women workers and leaders of PAT during the sit-in constitutes an unforgettable chapter in the political history of the country. He said that other political parties can only wish to have such resolute and determined political workers.
Dr Tahir-ul-Qadri said that PAT and MQI in collaboration with the youths are struggling for elimination of exploitation, religious and political bias of every kind and terrorism and extremism. He said that ten-point revolutionary agenda given by him contains solution to every problem faced by the poor.
The PAT chief said that he has waged a struggle against extremist attitudes all his life, adding that he has now embarked on the mission of protecting the youth from the evil influence of 'mischief of Khawarij' and radicalism. He said that we are gifting the Muslims of the whole world with peace curriculum aimed at promotion of peace and elimination of militancy and radicalism. He said that even the non-Muslims will also be able to benefit from this peace curriculum. He said that the peace education project offers meaty and argumentative answers to those who have distorted peaceful image of Islam.
Meanwhile, Dr Tahir-ul-Qadri has expressed his immense grief and sorrow on the deaths of officers and jawans of Pakistan Army in a train accident in Gujranwala. He said that from the hindsight, it appears that this incident is the result of negligence on the part of the Railways and the government. He demanded that the train accident should be thoroughly investigated and those found to be responsible for the incident should be punished.