Arrangements complete for Itikaf 2015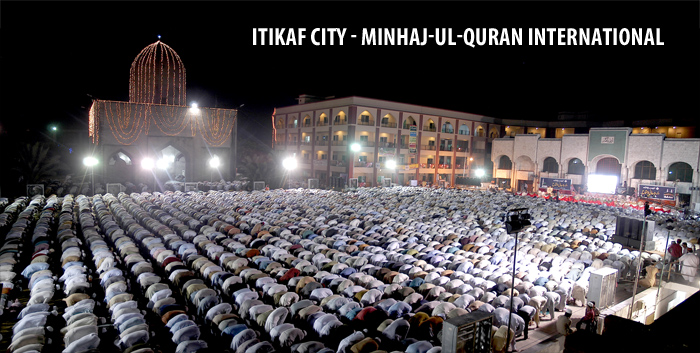 Talking to the heads of administrative committees and the media men, senior MQI leader and the head of Itikaf City 2015 Sheikh Zahid Fayyaz has said that all arrangements have been completed for Itikaf starting from Wednesday at the Jamia al-Minhaj and Minhaj Girls College Township. He said that thousands of men and women from inside and outside of Pakistan will attend Itikaf separately. The caravans of people from KPK, Balochistan, Gilgit-Baltistan and Sindh have started arriving to take part in the annual spiritual retreat, which is the second largest gathering of the faithful after the one held at Two Holy Mosques. He said that hundreds of people are coming from abroad to attend Itikaf.
Jawad Hamid, Secretary of the Itikaf City, told the journalists that a heavy generator has been arranged keeping in view the harsh, muggy and hot weather and load-shedding. Sajid Bhatti, Rafique Najam, Tayyab Zia, Shahzad Rasool, Hafiz Ghulam Farid, Sajid Asghar, Dr Tanvir Azam, Ain-ul-Haq Baghdadi and the heads of various administrative committees attended the meeting.
It was informed in the meeting that the youth belonging to MYL and MSM will perform the security duties. The dozens of security cameras have been installed at various locations in the Itikaf City. Dozens of fans have also been placed in and around the courtyard of Jamia al-Minhaj to take care of intense heat. Vast arrangements for water have been made for the faithful for ablution and other needs. A team of 30 doctors will be present round the clock in the Itikaf City whereas ambulances of Minhaj Welfare Foundation will also be available.
The chief highlight of this year's Itikaf is the special speeches of Shaykh-ul-Islam Dr Muhammad Tahir-ul-Qadri that he will deliver after Isha and Traveh prayers. Huge LED screens have been installed in the venue so that the residents of Itikaf City will be able to listen and see the speeches of Shaykh-ul-Islam. These speeches of Dr Tahir-ul-Qadri will be broadcast live around the world through Minhaj Internet Bureau and Minhaj TV.