Annual Itikaf under MQI a great refresher course on women rights: MWL leaders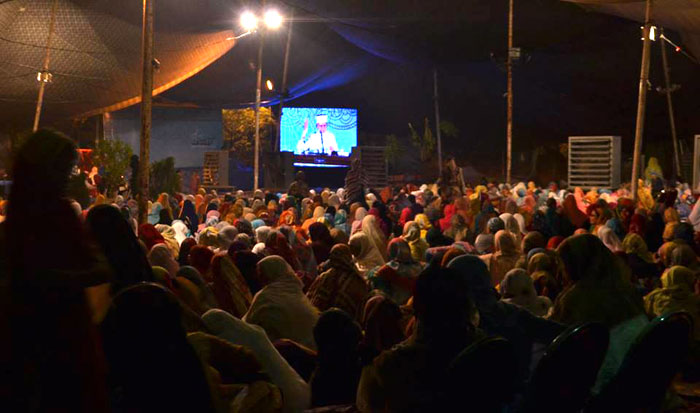 Mrs. Farah Naz, President of Minhaj Women League and the head of Itikaf committee for women, has said that thousands of women from across Pakistan as well as abroad have joined the Itikaf City zealously and with religious fervor because of Shaykh-ul-Islam Dr Muhammad Tahir-ul-Qadri's presence this year. She said that we invite distinguished ladies belonging to all walks of life including politics, media, civil society and human rights organizations to visit Itikaf City and observe the proceedings here. She said that though women constitute about 52% of the overall population of the country but their responsibility and role to make the society peaceful and civilized is 100%.
Mrs. Farah Naz said that Dr Tahir-ul-Qadri has served the humanity, Pakistan and Islam by making arrangements for imparting of training and education to women in an honorable way in accordance with the contemporary requirements and teachings of the holy Quran and Sunna. She said that when women are not brought up and trained in line with the principles laid down in the Holy Quran, the dream of a peaceful and civilized society cannot be fulfilled.
Speaking on the occasion, central MWL leader Mrs. Razia Naveed said that the books and research papers written by Dr Tahir-ul-Qadri and speeches delivered by him on a variety of subjects have changed our lives and persuaded the women to live their life in compliance with the commands of Allah and His Prophet (SAW). She said that we are happy that Dr Tahir-ul-Qadri's services are acknowledged everywhere. She said that it is for this reason that our families willingly and happily allow us to become part of the Itikaf City for ten days. She said that we pray to Allah Almighty for long life and good health of our beloved leader Dr Tahir-ul-Qadri.
Sidra Karmat, Gulshan Irshad, and Ayesha Mubashar, the members of the administrative committee, while speaking on the occasion, said that though we live in an Islamic society, yet the women cannot get to know the real teachings of Islam due to limited opportunities for education and training, which has adversely impacted the whole of society. They said that imparting of training and education to women in accordance with teachings of Islam and contemporary requirements is inevitable to get rid of such challenges as extremism, terrorism, militancy and radicalism and make society moderate and tolerant. They said that we are proud that MQI and a number of educational institutions including university, colleges, schools and Islamic centres are fulfilling this important responsibility of training and educating women under the leadership of Dr Muhammad Tahir-ul-Qadri. They said that women who get education from these institutions are contributing to different walks of life.