Those struggling for truth never lose heart: Dr Tahir-ul-Qadri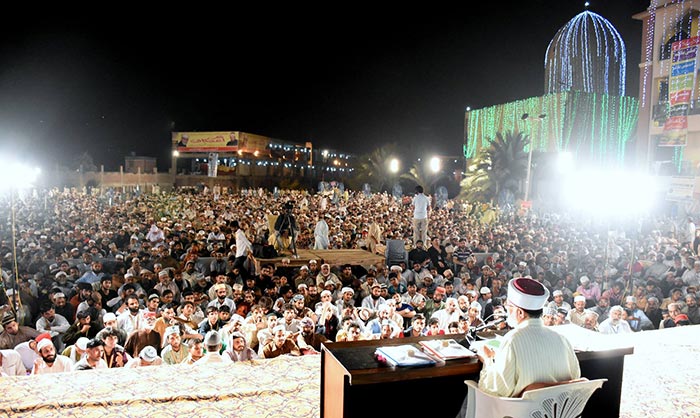 Addressing the thousands of residents of Itikaf City 2015 on the occasion of distribution of gold medals among the injured and prisoners during the revolution march, PAT chairman Dr Muhammad Tahir-ul-Qadri has said that we should delete three words namely 'why, when & how' from our minds and hearts because these three words create doubts. He said that our struggle is characterized by compliance with the Constitution, law, and teachings of the holy Quran and Sunna. He said that the Holy Quran has told us that those who struggle for sake of truth neither lose hope nor grieve over sufferings. He said that when we lose hope, we are likely to be enveloped by disappointment. He said that despondency is 'kufr' and those who have faith do not get disappointed. He asked the workers to accelerate the pace of their struggle for dominance of truth and elimination of every kind of exploitation and oppression. He said that only a small number of people are always on the path of truth and these few people succeed in the end. He said that when we break our relationship with 'how, when & why' and equip ourselves with conviction, victory becomes our destination.
Addressing the workers of Minhaj-ul-Quran International, Dr Tahir-ul-Qadri said that it is the Itikaf of martyrs because of none of them ran away from it due to fear of death in the struggle of truth. He said that according to Hadith, there will be some martyrs who will have a desire to die as martyrs but will breathe their last on the bed but they would have the same status as that of martyrs. He said that trials and tribulations are our test, which mature and ready us to take on the challenges in a win-win manner. He said that human history bears witness to the fact that only the poor and disadvantaged sections of society stood by the Prophets in their struggle. They were subjected to such cruelties by their tormentors that they were led to cry out, 'when will Allah's help reach us?'
Dr Qadri said that Allah Almighty has decided to endow the status of martyrdom on those who struggle for and seek to establish truth as an order. He said that Yazid, Namrud and Pharaoh do not get the status of martyrdom as this exalted station is reserved for Imam Hussain (RA) and those who follow him and tread on his path. He said that martyrdom is a yardstick to measure the loyalty of seekers of truth, adding that if there are no tribulations in life, how can one distinguish between the loyal and the disloyal? He said that one's demonstration of patience on sufferings tells us as to who is desirous of rewards and who is ready to offer sacrifices for the sake of truth. He said that cowardliness represents defeat and decimation whereas bravery denotes victory and success.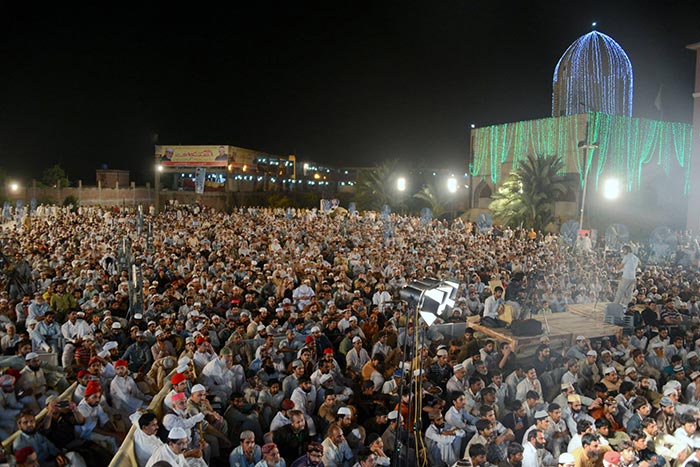 Dr Tahir-ul-Qadri said that on the occasion of Ghazwa-e-Hunain, the Holy Prophet (SAW) led a prayer one night and asked as to who will perform the security duties for the caravan on that night. In the meantime, one traveler by the name of Anas Ibn e Marsad al-Ghanvi came there while riding a horse and said that he would perform the security duty for the Prophet's (SAW) caravan. The Holy Prophet (SAW) asked him to go to a mountain and stand vigil for the whole of night. That person performed his duty of vigil throughout the night. The Holy Prophet (SAW) led the Fajr prayer and asked about the person who was standing vigil. After some time, that person came down from the mountain. The Prophet (SAW) said: you are congratulated. He (SAW) asked him whether he committed any negligence by climbing down from the mountain. He replied he did not. Hearing this, the Prophet (SAW) said blessed is that person. He said whosoever wants to see anyone blessed with paradise, he should look at him.
Dr Muhammad Tahir-ul-Qadri said that apparently there was a group of people among those supporting the holy Prophet (SAW) that left the Muslims at the time of trial and tribulations and turned their back on them. Their job was to spread rumours with an aim to disappoint the Muslims. This group of people consisted of hypocrites. They would ask whether we have some power or everything said by the Holy Prophet (SAW) has to be accepted. These are the signs of hypocrites.
Dr Tahir-ul-Qadri said that change in circumstances is the promise contained in the Holy Quran. He said that those who lord over this country were once in jail as well. They had beseeched someone to let them leave the country for ten years. He said that time does not remain static, adding that they can be behind the bars once again. He said that we are on the path of truth; that is why we did not run away. He said that Allah Almighty changes circumstances for the better and the worse so that people could see that the seekers of truth happen to be mountain of steadfastness.
Dr Tahir-ul-Qadri congratulated the workers and appreciated their resolve. He said that the workers established unmatchable examples of sacrifices and steadfastness from the Model Town tragedy to revolution march and thus did justice to what was expected of them. He said that no other party can have such courageous workers. He said that he who has blood of loyalty running in him, can die but cannot sell himself. He said that his movement is manned by the poor and downtrodden people but none of them can sell himself. He said that there is not even a single worker in his organization since 30 years who has sold himself or put a price tag on his loyalty.
Dr Tahir-ul-Qadri said that he will continue to love his workers till the last breath of his life who have committed to stand by him. He said that world should listen that the wealth and resources of even the wealthiest people have never proven to be hurdle in the way of revolution. He said that no power or wealth of the world can stop revolution from coming. He said that we have a pledge with the blood of martyrs that struggle for revolution will continue unabated. He said that the custodians of status quo and oppressive system will, one day, submit to the will of the people.
Highlights
Spiritual training sessions were held for residents of Itikaf City after Zuhr prayers on the second day in Itikaf City.
It rained in the afternoon around time of Asr, which made the weather very pleasant and broke the spell of heatwave.
The residents of Itikaf City offered their evening prayers under the leadership of Shaykh-ul-Islam Dr Muhammad Tahir-ul-Qadri.
Those affected by heatwave thronged the medical camps where they were given excellent medical treatment.
Electricity is being provided uninterruptedly round the clock in the Itikaf City due to generators despite load-shedding of power distribution company LESCO.
Soon after 'Traveh' prayers, the ceremony to distribute gold medals among the injured and prisoners of Revolution March belonging to Sargodha Division was held.
Dr Hassan Mohi-ud-Din Qadri, Dr Hussain Mohi-ud-Din Qadri, Sahibzad Hammad Mustafa al-Madni, and Sahibzada Ahmad Mustafa al-Arabi distributed medals by the name of 'Bilal Medals' among the workers. Shaykh-ul-Islam Dr Muhammad Tahir-ul-Qadri shook hands with each one of them.
Tributes were paid to the workers for their sacrifices starting from June 17 to October 21, 2014.
Dr Tahir-ul-Qadri appreciated the representatives of electronic media for excellent coverage of revolution march before the start of his address.
Dr Qadri told the media men that more than 1200 workers got injured in revolution march who have been facing the state oppression courageously.
The address of Shaykh-ul-Islam ended at 2:15 a.m.