Revolutionary struggle will not go in vain: Dr Tahir-ul-Qadri addresses female residents of Itikaf City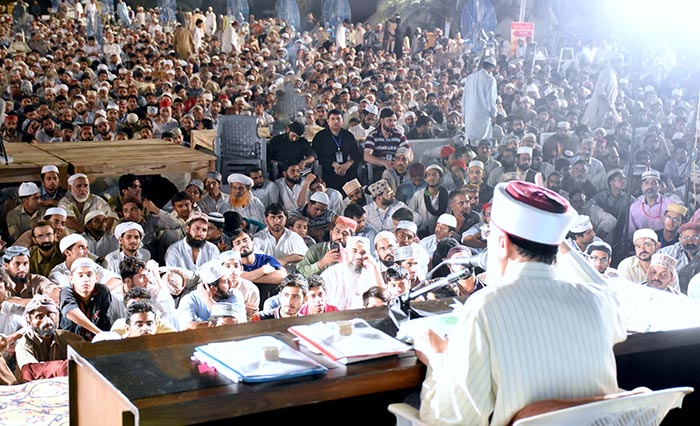 Delivering his special lecture on the holy Quran to the residents of the Itikaf City on the 24th night of Ramadan, Shaykh-ul-Islam Dr Muhammad Tahir-ul-Qadri has said that one cannot acquire the station of patience unless one has equipped oneself with conviction in veracity of one's destination. He said that revolutionaries should have such a high level of patience during the journey of revolution that they remain unaffected and unmoved even by the mightiest of the challenges. He said that there have been two kinds of people in the human history who took on the oppressive system; the first group consists of those people who tread on the path towards their destination with complete conviction and steadfastness and the second set of people are those who renounce the struggle when confronted with difficulties.
Dr Tahir-ul-Qadri said that even during the prophetic period, about 300 to 700 people joined the camp of Abdullah bin Abi and left the Muslims. He said that the Holy Quran says that Satan created doubts in their minds, which led them to flee. He said that those of the holy companions who persisted in the theatre of war got encouragement from their sense of conviction. Allah's help made them successful in the end.
Dr Tahir-ul-Qadri said that today women take part in the struggle for dominance of truth and it is in compliance with Sunna of 'Sahabiyat'. He said that this is Hussaini Sunna. He said that had this thing been wrong, the women would not have been included in the caravan of Imam Hussain (RA). He said that Hazrat Umm-e-Aiman (RA) was the maid of the Holy Prophet's (SAW) revered mother. She would go to the theatre of war and throw stones on those retreating. She would urge them to stand their ground and face the infidels. He said that Hazrat Ayesha Siddiqa (RA) and Hazrat Umm-e-Saleem (RA), the mother of Hazrat Abu Sa'id al-Khudri also took part in war. Hazrat Umm-e-Saad (RA), the mother of Hazrat Saad bin Waqas (RA), was the in-charge of a group of women. Hazrat Umm-e-Ammara (RA) took part in the battle by wearing an iron mantle and sustained thirteen injuries. He said that in the same way, male companions also took part in the battle in their old age. He said that Hazrat Abu Ayub Ansari (RA) took part in a battle of 'Qustuntunia' at the age of 94.
Dr Qadri said that women belonging to Minhaj-ul-Quran Women League are the proud followers of these 'Sahabayat' and holy personages. He said that faith undercuts the foundation of doubts and reservations leading one to have firm faith in Allah Almighty. He said that those who entertain doubts end up losing hearts. He said that we should not let go of firm faith in our Lord. He said that he never got disappointed and urged the workers not to let despondency get the better of them. He said that revolution is bound to come and their struggle will not go in vain.
Highlights
Dr Hassan Mohi-ud-Din Qadri, Dr Hussain Mohi-ud-Din Qadri and Hammad Mustafa Al-Madani visited various 'Halq-a-Jaat' of the Itikaf City and met with their residents.
Shaykh-ul-Islam Dr Muhammad Tahir-ul-Qadri went to the female portion of Itikaf city after Asr prayers where he addressed thousands of residents.
A ceremony was held in the honour of the injured and prisoners of revolution march after Traveh prayers in which medals and certificates were distributed among the workers belonging to Rawalpindi Division.
Light drizzle continued during the special address of Shaykh-ul-Islam for one and half hour. However, thousands of the residents of Itikaf City held their ground in the courtyard of the Mosque.
The address of Shaykh-ul-Islam ended at 1:30 a.m.