Linking sit-in to Generals new conspiracy of PML-N against Pakistan Army: PAT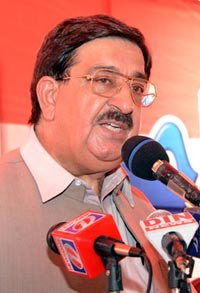 Reacting strongly to the statement of Federal Minister for Defence Khawaja Asif, PAT Secretary General Khurram Nawaz Gandapur has said that whenever the Nawaz government comes under pressure due to its bad governance, incompetence and corruption, it begins to target the generals of Pakistan Army. He said that linking the sit-in to the Army is a new conspiracy hatched by the ruling PML-N. He said that we strongly reject such baseless allegation.
The PAT Secretary General said that we staged sit-in to demand justice for innocent people killed in Model Town tragedy and protest lawlessness spawned by the PML-N government. He said that holding the former generals of Pakistan Army responsible for the sit-in is highly regrettable and condemnable. He said that Khawaja Asif is the only Defence Minister in the world who remains busy in hatching conspiracies against his own institution, the Pakistan Army.
Khurram Nawaz Gandapur asked the government that if it is convinced that the sit-in was staged at the behest of the former generals and that is was a conspiracy against the present government, then the Defence Minister and the Prime Minister on whose behalf he has churned out this conspiracy theory should tell the nation as to why the government has not taken any action against them? He said that one general remained in service long after the sin-in was packed up and retired after completion of his tenure. He said that we are of the view that the allegation of backing sit-in which was pinned on former generals was indirectly hurled at the Chief of the Army Staff. He said that whenever the PML-N initiates a proxy war against the national security institutions, it makes the Defence Minister Khawaja Asif give similar statements.
Khurram Nawaz Gandapur said that in fact the PML-N considers the military sole obstacle in the way of its uninterrupted rule. He said that the ministers sitting in the government and big guns outside it are literally sweating over the possible operation against corruption and plunder in addition to ongoing operation against terrorism, adding it explains why they have got busy with hatching conspiracies yet again. He said that PML-N government has had a steep fall in the eyes of the masses due to its efforts to sabotage National Action Plan, and stark failure in controlling load-shedding despite electoral promises, and loss of national honour in the Prime Minister's meeting with Narendra Modi besides abundance of bad governance, corruption and incompetence. He said that the government wants to prop up its sagging credibility and that is why it has stooped so low as to accuse the national security institutions to cover up for its blunders. He said that the people of Pakistan are awake now and would not let the corrupt rulers succeed in any of their conspiracies.