People forced to commit suicides due to poverty: Farah Naz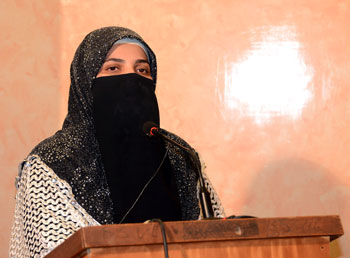 Mrs. Farah Naz, President of Minhaj-ul-Quran Women League, has said that Dr Tahir-ul-Qadri wants such a just and people-friendly democratic system in which the parents are not forced to commit suicides for their inability to buy new clothes and shoes for their children due to sheer poverty and where the government departments do not gang up with the profiteers and hoarders to fleece the masses. She said that news are abuzz every day that poor parents are committing suicides because they are not able to buy new clothes and shoes for their children. She said that this is the yardstick against which performance of the government can be measured, adding that the rulers are only living in newspaper and TV advertisements. She said that they should be ashamed of their conduct as people are left with no option but to commit suicide due to poverty and destitution.
Mrs. Farah Naz said that precious national resources are being squandered off on fancy projects such as metro buses and motorways instead of spending it on welfare of the people and elimination of poverty. She said that police and other institutions are looting the masses under the very nose of the government, adding that 'Eidi checks' of police are a slap on the rulers' claims of good governance. She said that the PAT will purge police and other departments of corrupt elements on coming into power and ensure security of life and property of the masses. She said that the prices of edibles have registered a consistent increase from the first of Ramazan to date, which represents the failure of the government and a proof of its incompetence if any was needed. She said that price hike registered an increase up to 30% contrary to claims of its control in the holy month of Ramazan, which is condemnable.