Dr Tahir-ul-Qadri's special message on Eid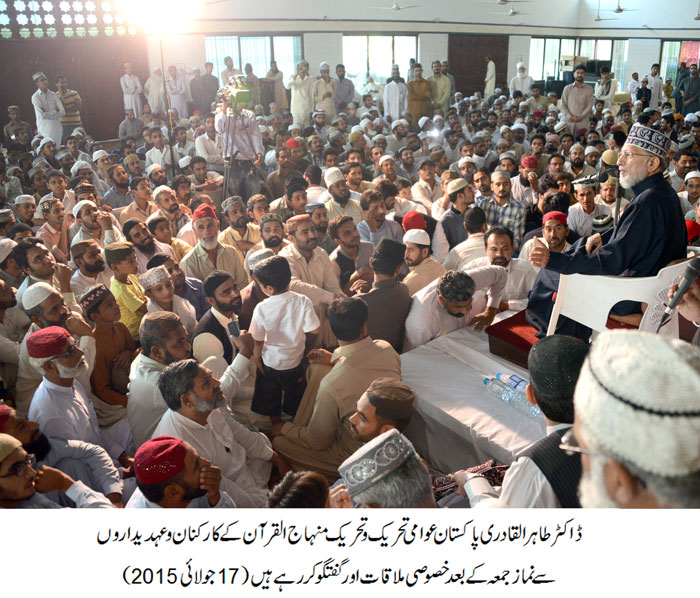 In his special message on Eid-ul-Fitr, the founding leader and patron-in-chief of MQI Dr Muhammad Tahir-ul-Qadri has said may Allah Almighty bless Pakistan and its 190 million people with the wealth of enduring peace and prosperity. He further said may Allah give Pakistan an honest, capable and sympathetic leadership that should be able to steer this great nation out of darkness of terrorism, corruption and poverty.
After Juma-tul-Wida, Dr Tahir-ul-Qadri met with the workers and office holders of PAT and MQI, residents of Itikaf City, families of martyrs and the injured of Model Town tragedy and prisoners of revolution march. While talking to them, he said that he prays to Allah Almighty to accept the sacrifices of the officers and jawans of Pakistan military who laid down their lives for the sake of Islam and Pakistan during the Operation Zarb-e-Azb and grant patience to their families. He said that we pay homage to those who have offered the ultimate sacrifice of their lives while fighting terrorism.
Dr Qadri also prayed to Allah Almighty to endow the wealth of freedom on the Muslims of Palestine and Kashmir, rid the Islamic world of internal fissures, make it haven of peace and string them in the thread of unity and harmony. He said that he is immensely missing his martyred sons and daughters today, adding that he prays to the Lord to rid Pakistan of the oppressors and make an example out of them for others to learn a lesson from. He said may justice hold sway over the land and may Pakistan become fortress of Islam in the true sense. He said that he has firm faith that future of 190 million people is bright and that of plunderers and looters is very horrible.
Dr Tahir-ul-Qadri congratulated the people of Pakistan, expatriate community and the Muslims around the world on the festive occasion of Eid.