Reservations of Kashmiri leaders show of no confidence in government's Kashmir Policy: Dr Raheeq Abbasi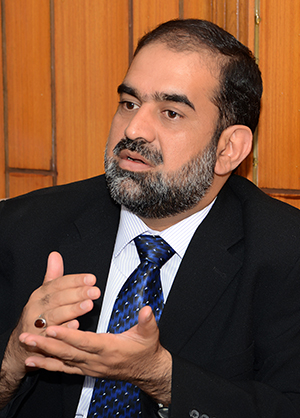 PAT President Dr Raheeq Ahmad Abbasi has said that distinguished Kashmiri leader Sayyid Ali Geelani's refusal to accept an invitation to attend 'Eid Millan' party to be organized by Pakistan High Commission in New Delhi is an expression of no confidence in the Kashmir policy of the present government. He said that Mian Nawaz Sharif is Kashmiri to the extent of his passion for eating, adding otherwise he has got nothing to do with Kashmir cause. He said that creation of fissures within the Kashmiri leadership is a huge success of India and unfortunately the government of Pakistan has offered this opportunity to India on platter.
Dr Raheeq Abbasi expressed these views while talking to senior office holders of the party yesterday. He said that India benefitted from humiliating meeting of Pakistan's PM with the PM Modi. He asked what kind of patriotic rulers they are whose policies are benefitting India rather than Pakistan. He said that the Sharif government is interested in friendship with India due to its personal business interests, an approach which the nation has rejected disdainfully.
The PAT President said that the rulers should inculcate this in their mind that the road to peaceful relationship with India passes through Kashmir. He said that the government should not neglect ground realities. He said that reservations of the Kashmiri leadership are a matter of immense concern. He suggested to the Pakistan government to take the Kashmiri leadership into confidence and clear off their reservations. He reminded that the struggle for freedom of Kashmir is very much alive in the heart of every Pakistani, adding that no government can stay longer in power by putting the issue of Kashmir at the backburner.