MWM delegation calls on Dr Tahir-ul-Qadri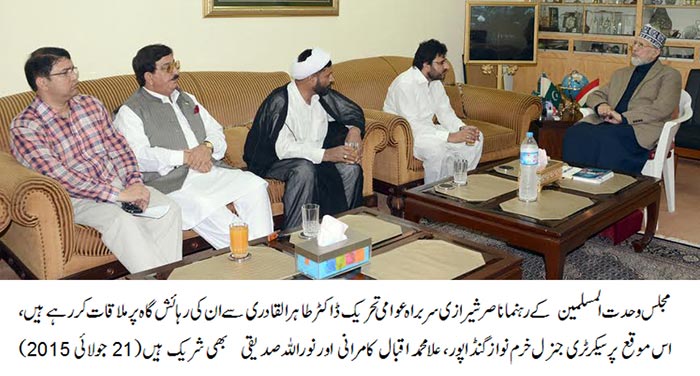 A delegation of Majlis-e-Wahdat-ul-Muslimeen (MWM) led by Nasir Shirazi called on PAT chief Dr Muhammad Tahir-ul-Qadri at his residence yesterday and inquired after his health. The matters of mutual interest including political situation came under discussion during the meeting. Both leaders strongly condemned the PML-N governments in Punjab and Gilgit-Baltistan for vindictive actions against the PAT and MWM workers. They concurred that the PML-N has become a mafia against whom decisive political and democratic struggle is inevitable. PAT Secretary General Khurram Nawaz Gandapur, Allama Muhammad Iqbal Kamrani, Qazi Faiz-ul-Islam and Noorullah Saddiqi were also present in the meeting.
Talking to media along with Khurram Nawaz Gandapur after the meeting, Allama Nasir Shirazi said that there is a need to unite all political forces of Punjab to challenge the fascist rule of PML-N in the province. He said that all political parties can retain their brand of politics and right of dissent or difference of opinion but should get together on the single-point agenda of removing the PML-N government through democratic struggle, adding that contacts in this regard with leaderships of these parties have begun.
Allama Nasir Shirazi said that the PML-N government is mercilessly using the state power and resources against the opposition parties. He said that terrorism and extremism cannot end as long as the PML-N remains in power. He said that the PAT leader Dr Tahir-ul-Qadri has invited the MWM leadership to the launching ceremony of peace curriculum in Islamabad on July 29, which we have accepted happily. He said that we have also invited him to visit the central office of MWM.
Speaking on the occasion, PAT Secretary General Khurram Nawaz Gandapur said that we were neither afraid of PML-N in the past nor we will be in future. He said that staying of the PML-N in power is against the national interest, adding that the time for the oppressed to get together against the oppressors has come. He said that we would never abandon our demand for justice in Model Town tragedy. He said that the Sharif brothers will have to answer for their crimes. He said that the government has adopted a weak stance on the Kashmir issue. He said that we hold the MWM leadership in high esteem. He said that both PAT and MWM face the vindictive activities of the ruling party. He said that all political parties will have to forge unity in their ranks against the oppression of the PML-N.