Judicial Commission probing rigging was like JIT of Punjab Government: Dr Tahir-ul-Qadri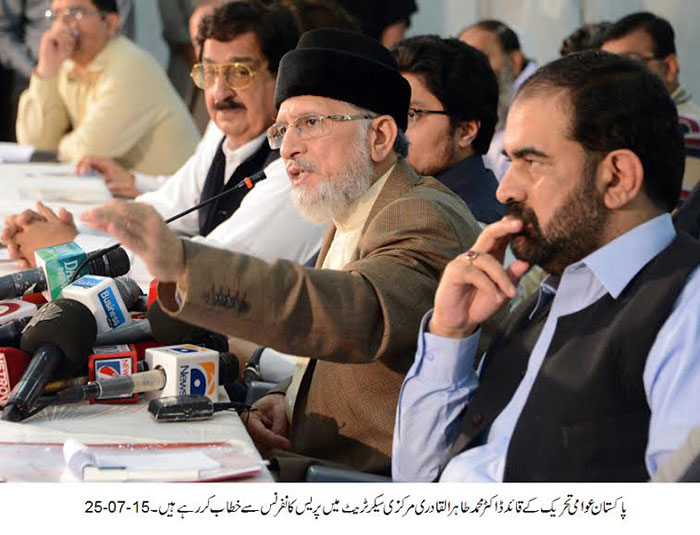 Addressing a press conference in the central secretariat of Pakistan Awami Tehreek on July 25, PAT Chairman Dr Muhammad Tahir-ul-Qadri has said that if the government cannot control target killing in the country particularly in Karachi, it should give employment to every affected family. He said that a powerful central Core Committee of Pakistan Awami Tehreek consisting of central and provincial leaders has been constituted to devolve power to the grass-roots and project the democratic concept of collective responsibility and leadership. He made it clear that no party chapter or position has been dissolved. He said that the powerful central Core Committee will be the highest policy-making forum of PAT having representation of all the four provinces including women and minorities.
Dr Tahir-ul-Qadri said that the Judicial Commission established to probe rigging charges was no different from the JIT of the Punjab government. He said that everyone observes rigging but no one gives any receipt of fraud, robbery and theft. He said that terrorism is the biggest mischief facing the Muslim world. He said that a prestigious ceremony will be held in Islamabad on July 29 in which Islamic Curriculum for promotion of peace and elimination of terrorism will be launched. He said that billions of rupees were looted and squandered in the name of flood mitigation but nothing concrete has been done to minimize the losses wrought by floods.
Dr Qadri asked as to why the report of the Judicial Commission on the Model Town tragedy is not being released. He said that we will not rest till we bring the target killers of Model Town to justice. He said that efforts are being made to delay the LG polls, adding that the PAT will take active part in the local government elections. He said that as long as the present rulers, who are product of the rigged system, stay in power, the country will continue to suffer. He said that he did not hold any discussion on any possibility of alliance with General Pervez Musharraf in his telephonic chat with him. He said that the matter of unconstitutionally formed Election Commission was not discussed during the proceedings of the Judicial Commission.
Dr Tahir-ul-Qadri said that the PAT has been divided into three zones each for Punjab, KPK and Sindh and four zones for Balochistan. He said that two and three zones will be established in AJ&K and Gilgit-Baltistan respectively.
Announcing the names of the central Core Committee, the PAT chief said that President PAT Dr Raheeq Ahmad Abbasi, Secretary General Khurram Nawaz Gandapur, Chief Organizer Hanif Mustafavi, President Central Punjab Basharat Jaspal, President South Punjab Fayyaz Warraich, Sheikh Zahid Fayyaz, President Northern Punjab Brig. (r ) Mushtaq, Makhdoom Nadeem Hashmi, Deputy Secretary General Aamir Farid Koreja, and Secretary Information Noorullah Siddiqi have been appointed as members of the central Core Committee, whereas it would have the representation of KPK, Balochistan, women and minorities.
Dr Tahir-ul-Qadri also announced to appoint Noorullah Siddiqi as Secretary Information PAT, Maj. (r ) Muhammad Saeed as central Chief Coordinator and Sultan Naeem Kayani as central Executive Council member in the press conference. He said that he is on record as having stated about the possible findings of Judicial Commission in front of the national media on May 27 that the rulers will get a clean-chit from the Commission. He said that if the Commission gives a favourable report, it is made public within no time and if it is not to the liking of the rulers, then the report is not released despite passage of one year. Reiterating his resolve to seek justice for Model Town victims, he said that we would not rest till we bring the perpetrators of Model Town tragedy to justice, adding that we have made preparations in this regard.
Dr Qadri said that rigging takes place at every level. He said that rigging is not just committed during the Election Day; rather it is resorted to many months ago in the run up to the polls. He said that the process of appointment of teachers, revenue officials, police and administration officials starts well before the conduct of elections. He said that the priority of the federal and provincial governments is only loot of national resources, adding that they are passing time by feeding people on empty and fake promises. He said that load-shedding and price hike have increased instead of decreasing. He said that we strongly condemn anti-people policies and manner of governance of the rulers in the strongest possible words. He said that when we went to the court to get a copy of the report of the judicial commission on Model Town, the government got a private lawyer to challenge the legal status of the Commission led by Justice Najfi. He said that he has his complete faith in Allah Almighty, adding that the blood of martyrs of Model Town tragedy will not go in vain. He said that as long as this system based on loot and plunder remains in vogue, rigging cannot be eradicated from the country.
The PAT Chairman said that there is a political party in Pakistan whose poor workers reject the offers of millions of rupees disdainfully made by the filthy rich rulers. He said that he is proud of his workers' loyalty, sincerity and devotion and commitment with the party and its ideology. He said that we are making important decisions to make PAT the most popular and active party of the country. He said that the management of the party will be in the hands of body of collective leadership, adding that tasks regarding membership campaign and reorganization have been given and our struggle against oppression will continue unabated till it is eliminated.
The PAT chief said that the rulers are issuing unconstitutional Ordinances to get favourable results in the upcoming LG polls and snatching powers of the local government institutions. He asked: Is it not rigging? Are efforts to influence the public opinion through development funds not rigging? Is delimitation and appointment of personnel of one's choice not rigging? He said emphatically that we will become part of the electoral process and also continue to expose corruption and plunder of the rulers.