Why our justice system failed to punish Malik Ishaq? Khurram Nawaz Gandapur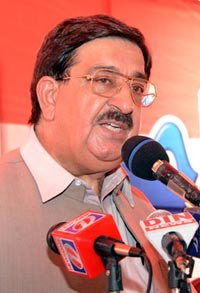 PAT Secretary General Khurram Nawaz Gandapur has mooted a question as to why our justice and prosecution system failed to punish Malik Ishaq. He said that the reasons of the systematic failure need to be investigated and identified. He said that the system, which failed to punish the hardened criminal, should have no objection to the constitutionally formed military courts. He said that these dangerous criminals continued to receive financial assistance from official circles in Punjab and later on got killed at their hands, asking that this hypocrisy and the policy of double dealing should be investigated. Khurram Nawaz Gandapur expressed these views while talking to the lawyers of the party in the central secretariat.
The PAT Secretary General said the reality of the government's speedy justice can be gauged from the fact that out of 1200 positions of prosecutors, 700 seats are lying vacant in Punjab. He said that instead of helping the courts, it is on the agenda of increasing problem for the judiciary. He asked how the courts can speedily dispose of the cases without the appointment of prosecutors. He said that Malik Ishaq appears to have been killed in a police shootout to hush up certain secrets. He said that the police encounter in Muzaffargarh has generated a number of questions. 'Why did the accused who has been incarcerated for 23 years not tell about the depot of weapons before? Why was a high-profile accused taken out to Jungle in insufficient security detail? How come were the attackers able to flee? Why were advance arrangements not made? He asked.
Khurram Nawaz Gandapur said that if our police and other institutions are so incompetent that they are not able to provide security to the most dangerous criminal, how can they be expected to fight terrorism? He said that the international media is taking deep interest in this police encounter and the government must be ready to offer its response to the questions revolving around this encounter.