Dr Tahir-ul-Qadri welcomes the Supreme Court's verdict on military courts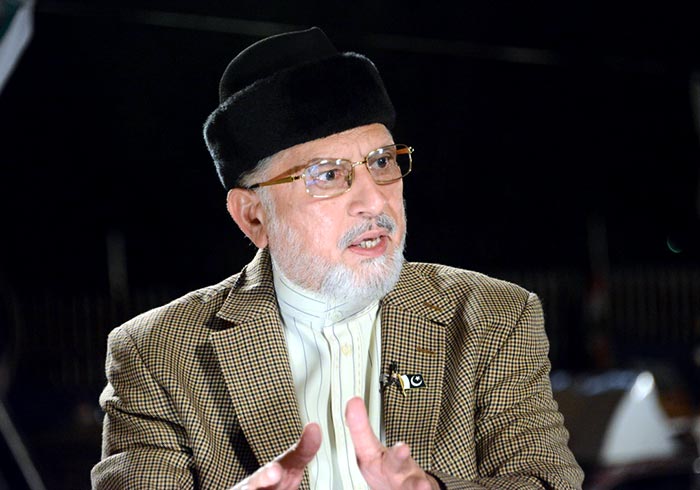 Welcoming the Supreme Court's verdict that upheld the 21st constitutional amendment regarding establishment of military courts, PAT Chairman Dr Muhammad Tahir-ul-Qadri has said that the verdict will have far-reaching positive impact on the ongoing war against terrorism. He said that the terrorists capitalized on the lacunae of the judicial system and weaknesses of the prosecution, adding that the SC verdict will plug the legal loopholes.
Dr Tahir-ul-Qadri expressed these views while talking to PAT North Punjab President Brig. (r ) Mushtaq and Deputy Secretary General Aamir Farid Koreja on telephone from London today. He said that after the apex court has delivered its histoic verdict, all negative commentary should end and the whole focus should be directed at eliminating terrorism from the country. He said that we hope that the military courts would use their constitutional and legal powers with full force against terrorists, their patrons, financiers and supporters. He further said that the functionality of the military courts will help to take the Operation Zarb-e-Azb to its logical end.
Dr Qadri said that the terrorists who have taken lives of more than 50,000 innocent people including security personnel do not deserve any concession. He said that the apex court's decision will also be instrumental in reducing the workload on the judicial system. He said that examples are there whereby the judicial system failed to punish the hardened criminals for 23 years. He said that the terrorists, despite being held by law, evaded punishments by benefitting from the loopholes existing in laws and weak prosecution.
The PAT Chairman also appealed to the legal fraternity to give primacy to matter of national survival and sanctity of life and property of the masses and strengthen the military courts so that every citizen of Pakistan could sleep peacefully. He hoped that like the Operation Zarb-e-Azb, the military courts will play their effective role in dispensation of quick justice and decision-making. He, however, added in the same breath that unless the government discharges its responsibility on the remaining 18 points of the National Action Plan, real and durable peace will not be established.
Dr Tahir-ul-Qadri reminded that any further delay in introducing reforms in curriculum and system of educational institutions and religious seminaries will be counter-productive. He said that the use of pen and employment of argument along with the use of the hard power is of equal significance in flushing out terrorism. He said that PAT and MQI have fulfilled the requirements of intellectual struggle against terrorism by presenting Islamic Curriculum on Peace and Counter-Terrorism.