No General was behind the sit-in: PAT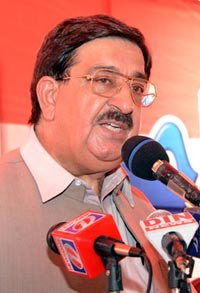 Khurram Nawaz Gandapur, Secretary General of Central Core Committee of PAT, has said that former Generals were not behind the sit-in. He appealed to the Army Chief to take notice of the allegations made by the Defence Minister and ask him for proof. He said that the sitting ministers' habit of leveling baseless allegations has reached dangerous level. He said that one minister is busy in leveling allegations while another is engaged in giving clarification and appeasement, whereas the Prime Minister is playing the role of a referee in this sordid drama.
Khurram Nawaz Gandapur expressed these views in a strong reaction to the interview of the Federal Defence Minister Khawaja Asif with a private television. He asked if the Minister had proofs regarding the Generals being behind the sit-in as planners, why he kept mum during the days of the sit-in and why he did not make such a statement back then.
The PAT Secretary General said that Dr Tahir-ul-Qadri led the revolution march against the oppression committed by the government in Model Town. He said that the rulers killed 14 innocent people, injured around 100 of them with live bullets and then snatched from the bereaved families of martyrs the right to file an FIR. He said that revolution march was held and the sit-in was staged in Islamabad after every door of justice was shut down. He asked were the former Generals also behind Model Town carnage?
Khurram Nawaz Gandapur said that it is a matter of immense shame that the Defence Minister has become an 'invading minister' for his own forces. He said that Generals and military are inseparable and trying to create a separation between both is what the PML-N ministers are seeking to do. He said that after successful military operation against terrorists, the Army Chief's declaration of an action against economic terrorists, drug dealers, occupation mafia, and extortionists has created panic among these circles. He said that it is hoped that the thieves and looters would not be able to escape their end now. He said that the days of politics of corrupt politicians have been numbered.
The PAT Secretary General said that being a federal Defence Minister, it was Khawaja Asif's legal and constitutional responsibility to take care of the armed forces' prestige and honour but he has earned notoriety for spearheading a propaganda campaign, an act which deserves to be condemned in the strongest possible words. He said that the Pakistan military is fighting the battle for the country's survival at this critical time of history. He said that the government should have played its role to forge national consensus and strengthen the armed forces at this point but alas these rulers put their personal interests ahead of everything else.