MWF dispatches relief goods for flood affectees
PAT workers should help flood victims at every cost: Dr Tahir-ul-Qadri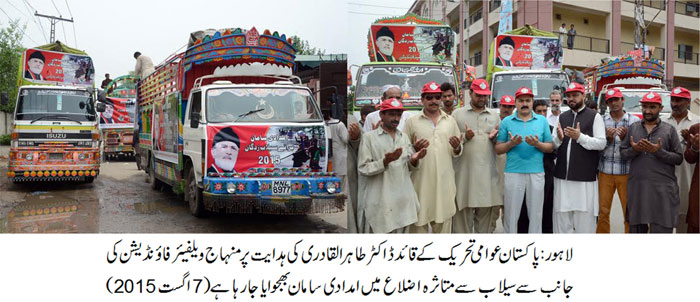 On the special instructions of the PAT chief Dr Muhammad Tahir-ul-Qadri, Minhaj Welfare Foundation (MWF), Friday, dispatched the first caravan of truckloads of relief goods to the flood-hit areas of the country. The relief goods consisting of food items and medicines have been sent to 25 union councils of Rajanpur, DG Khan and Muzaffargarh.
Speaking on the occasion, PAT South Punjab President Fayyaz Warraich and Sardar Shakir Mazari said that the PAT chairman has instructed his workers to give up their food of one time and help the flood victims. He has particularly directed the PAT office holders and workers to reach out to the flood affected people and make sure that no flood victim goes without food at this hour of great trial and tribulation. He said that the PAT workers should consider the pain and sufferings of the flood affectees as their own pain.
Dr Qadri said that he has immense love for the people of South Punjab. He said that the majority of the participants of the sit-in were from the South Punjab. He said that they were in the forefront of offering sacrifices for the cause of revolution. He also asked the doctors and medical staff belonging to the PAT and MQI to spend some time with the flood affectees and extend them every possible medical help.
Sardar Shakir Mazari told Dr Tahir-ul-Qadri that the flood affectees whose all belongings and homes have been washed away by floods are being helped on priority under relief operations of MWF.
Deploring the loss of properties and lives in the recent floods, Dr Qadri said that floods are an annual visitation causing massive havoc in flood-prone areas. He said that those being most affected by the floods are the poorest of the poor and farmers. He said that promises are made every year but they are washed away like dykes once the floods strike. He said that had national wealth been spent on well-being and protection of human life than on the fancy projects, human tragedies would not have taken place every year.
MWF dispatches relief goods for flood affectees

On the special instructions of the PAT chief Dr Muhammad Tahir-ul-Qadri, Minhaj Welfare Foundation (MWF), Friday, dispatched the first caravan of truckloads of relief goods to the flood-hit areas of the country. The relief goods consisting of food items and medicines have been sent to 25 union councils of Rajanpur, DG Khan and Muzaffargarh.

Posted by Minhaj Welfare Foundation - MWF, Pakistan on Saturday, August 8, 2015
---
Flood Relief 2010