PAT to celebrate Independence Day in a befitting manner throughout country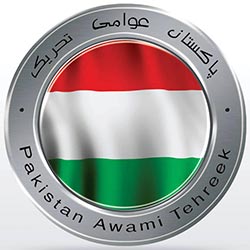 Pakistan Awami Tehreek (PAT) has completed all the arrangements to celebrate the Independence Day with traditional fervor in a befitting manner. The party is already celebrating an Independence Week throughout the country from August 07 to August 14, 2015. The Independence Day celebrations are being held at the Tehsil and district offices of PAT and MQI. Likewise, various programmes are being organized in Minhaj University, Minhaj Colleges, and over 700 schools under the Minhaj Education Society. All buildings of the PAT and MQI will be decorated with the National Flag and lights on the 14th of August to reflect the festivity of the day.
According to the PAT Spokesperson, the party has started Independence Day celebrations in the form of organizing seminars, workshops, walks and prayer ceremonies along with the local notables. PAT Youth Wing will take out 'Long Live Pakistan Youth Peace Rallies' throughout the country from August 11 to August 14 in which thousands of the youth will participate.
The central Independence Day ceremony will be held at the central secretariat of Pakistan Awami Tehreek on August 14, 2015 in which the PAT and MQI leaders and people belonging to all walks of life including politicians, human rights activists, lawyers, opinion makers, and religious scholars will participate. All district chapters of the party have been directed to hold prayer ceremonies in their respective areas where Independence Day cakes will also be cut.
The PAT Spokesperson has further maintained that a prestigious ceremony under the title of 'Our Shared Pakistan' will be held under the banner of the PAT Interfaith Relations in which key faith leaders belonging to Islam, Hinduism, Sikhism, and Christianity will make special prayers for the country's stability, progress and peace. He said that the living nations not only remember their independence days but also celebrate them with zeal and zest. He said that it is a day when we pay tributes to our founding fathers for their services and sacrifices in getting an independent homeland for us. He said that the PAT has formulated a comprehensive plan to celebrate the Independence Day throughout the country on the instructions of PAT Chairman Dr Muhammad Tahir-ul-Qadri.
The Spokesperson said that various competitions including speech declamations, national anthems, songs, and quizzes will be held in the educational institutions in addition to the sports contests at Tehsil and District levels. These ceremonies will continue to be organized in a phased manner till August 14, 2015. Oversees chapters of the party will also hold Independence Day celebrations.