Dr Tahir-ul-Qadri strongly condemns suicide attack on Punjab Home Minister & others in Attock
Zarb-e-Azb has broken terrorists' backbone, but lot has to be done: Dr. Tahirul Qadri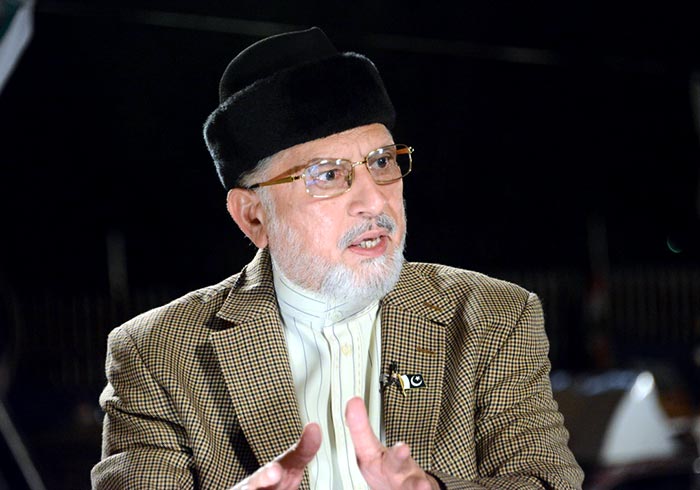 PAT Chairman Dr Muhammad Tahir-ul-Qadri has strongly condemned the suicide attack on the Punjab Home Minister Col. (r ) Shuja Khanzada and others in Attock in which scores of people including the Minister were martyred today. He expressed his sympathies with the bereaved families. He demanded that the terrorists involved in planning the incident and their facilitators should be arrested and brought to justice. He said that the Operation Zarb-e-Azb has certainly broken the back of terrorists but their complete elimination will be possible through implementation of the National Action Plan both in letter and spirit. He expressed his grave concern on the fact as to why the Punjab Government ignored the security of the Home Minister who was busy in taking on the terrorists.
Talking to the central media cell of the party, Dr Tahir-ul-Qadri said that cowardly terrorists cannot break the resolve and courage of the Pakistani nation. He said that God willing, these are the people and the truth, which will come out victorious in final battle and 'Khawarij' will be eliminated soon.
Meanwhile, the members of the PAT Core Committee, Khurram Nawaz Gandapur, Muhammad Saeed Rajput, Brig. (r ) Muhammad Mushtaq, Basharat Jaspal, Fayyaz Warraich, and M. Noorullah have strongly condemned the terrorist incident in Attock. They said that this heinous incident of terrorism proves one thing that the sympathizers of terrorists still continue to fund their evil acts in addition to providing them logistical support. They said that the military is eliminating terrorists hiding in mountains and caves, adding that it is the provincial governments' and their subordinate institutions' responsibility to bust the terrorists' sleeper cells, and hunt down their sympathizers, and facilitators living in the urban areas.
The Members of the Core Committee said that after this incident of terrorism, the Punjab Government should feel its responsibility and implement the National Action Plan in letter and spirit. They said that a feeling of insecurity has been created among the people as a result of suicide attack in Attock. They asked the Punjab Government to employ all resources for security of people's lives and the perpetrators of the Attoack tragedy should be brought to justice.