Apologetic attitude of Pakistan PM the cause of aggressive posture of India: PAT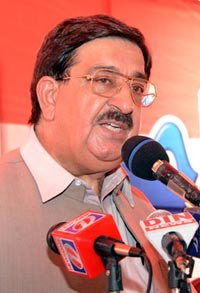 Condemning the unprovoked firing of the Indian security forces on the Line of Control in the strongest possible terms, PAT Secretary General Khurram Nawaz Gandapur has said that the current aggressive posturing of the Indian Prime Minister is the result of the apologetic attitude of the Pakistani premier. He said that the Indian aggression is being responded to befittingly by the armed forces but the government of Pakistan has completely failed in playing its role at the diplomatic front. He asked the bellicose India to come to its sense and resist any temptation of misadventure. He said that if any effort was made to hurt Pakistan, India would not be able to walk away unscathed. He said that in that case, India would not be able to maintain its territorial integrity as a number of states would emerge out of its body politic.
The PAT Secretary General expressed his extreme dismay over the silence of the United Nations in the backdrop of the Indian aggression and violations at the LOC and said that the world body does not seem to be bothered despite there being enough evidence of RAW's involvement in sabotage activities in Pakistan. He said that if the UN has to serve as a mouthpiece for the bigger nations and protector of their interests, then it is better to bury this institution into the dustbin of history.
Khurram Nawaz Gandapur said that phenomenal successes achieved by the Pakistan armed forces in the ongoing Operation Zarb-e-Azb against the menace of terrorism have shaken the enemies of Pakistan both internally and externally, adding that these enemies want to give an opportunity to the dispersed terrorists to get together again by getting Pakistan Army embroiled in the non-issues. He said that we consider the recent actions of India the part of the same background. He further said that the thinking of Narendra Modi is pushing South Asia in the cauldron of renewed conflict.