Why are farmers of South Punjab being punished? PAT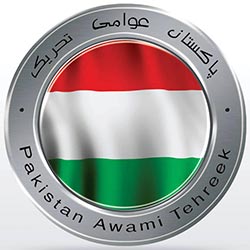 PAT South Punjab President Fayyaz Warriach, senior leaders Sardar Shakir Mazari and Arif Rizvi have said in their joint statement that conspiracy is being hatched to render the lands of South Punjab barren by reducing its share of water. He said that farmers belonging to the South Punjab want to know as to why they are being punished by holding back the water of Greater Thal Canal.
The PAT leaders further said that the farmers of the South Punjab were the victim of recent floods and an effort is being made to further destroy them through stoppage of water. They asked the Prime Minister and the Punjab Chief Minister to tell as to why IRSA reduced the share of their water in violation of the agreed-upon formula and why the Punjab government, which has got the mandate of protecting the interests of the province, is playing the role of a silent spectator over the theft of water.
The PAT leaders also asked the members of the opposition in Punjab Assembly and those belonging to South Punjab to raise the excesses committed against the farmers and the insensitivity of the Punjab government in the assembly session and demand the resumption of water releases as per routine.
They further said that if the farmers of the South Punjab did not get their due share of water in next 24 hours, then the PAT South Punjab chapter will join the farmers and block the GT Road.