Former President reminded of Model Town tragedy after one year: Khurram Nawaz Gandapur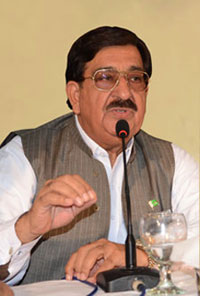 Responding to the statement of the PPP Co-chairperson Asif Ali Zardari, PAT Secretary General Khurram Nawaz Gandapur has said that the former President has been reminded of the perpetrators of the Model Town tragedy after the passage of one year. He asked the former President to get the Sindh Assembly to approve a resolution demanding arrest of the killers of the 14 innocent people as a panacea of his studied silence of one year. He further asked him to bring his influence to bear upon the Opposition leader in the National Assembly and Senate to move similar resolutions in these Houses.
The PAT Secretary General said that Dr Tahir-ul-Qadri and his workers have been on the roads to seek justice for the martyrs of the Model Town tragedy but no one has come out in their support. He said that whenever any political party feels hurt by the attitude and conduct of the ruling PML-N, it makes mention of the Model Town tragedy. He said that conspicuous by his absence and silence was the leadership of the PPP, the party of martyrs, which did not rise to the occasion by demanding justice for the martyrs of Model Town. He said that at a time when the politics of reconciliation is fast turning into politics of shame, the former President has remembered the faces of the martyrs of Model Town.
Khurram Nawaz Gandapur said that had Asif Ali Zardari not extended his unstinted support to the PML-N government during the days of the sit-in, the 190 million people would not have been in this miserable condition today nor the killers of the innocent people would have been mocking them.