Report regarding NAB's role in escape of former Chairman OGRA a matter of serious concern: PAT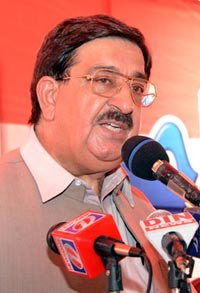 PAT Secretary General Khurram Nawaz Gandapur has said that the report about the NAB's role in making the former Chairman OGRA escape who is involved in a mega corruption scandal of Rs. 82 billion is highly disturbing and a matter of immense concern. He said that the institutions that are responsible for detection and eradication of corruption are involved in the activities that seem to spawn it, whereas the police, which is supposed to protect people, is taking their lives illegally. He said that despite this sorry state of affairs, the powerful ruling circles are insistent on retaining this oppressive system and corrupt democracy.
Khurram Nawaz Gandapur expressed these views while talking to the members of the PAT Constitution Review Committee and the media men after the meeting in the party secretariat. Major (r ) Muhammad Saeed, M. Noorullah, Qazi Faiz-ul-Islam, Muhammad Anwar Advocate, Sajid Bhatti, who are members of the Constitution Review Committee, were also present on the occasion.
The PAT Secretary General said that the fundamental duty of the police is to secure the life and property of the masses but added in the same breath that the police shed the blood of the innocent people on June 17 in which 14 people were martyred and more than 85 of them were seriously injured with live bullets. He said that this whole brutality took place under the nose of the rulers of Punjab but none of the culprits has been punished so far. He said that what is even more unfortunate is that not even fair investigation has been launched into the incident as yet.
Khurram Nawaz Gandapur said that the need of revolution has now increased manifold in order to punish those who have usurped people's rights. He said that the NAB was involved in enabling and facilitating the escape of the former Chairman OGRA and the same report has been presented to the Supreme Court of Pakistan. He demanded that those involved in the crime of facilitating the escape should be apprehended and their case should be transferred in the military court.