PAT Lahore takes out rally to pay tributes to martyrs of September 1965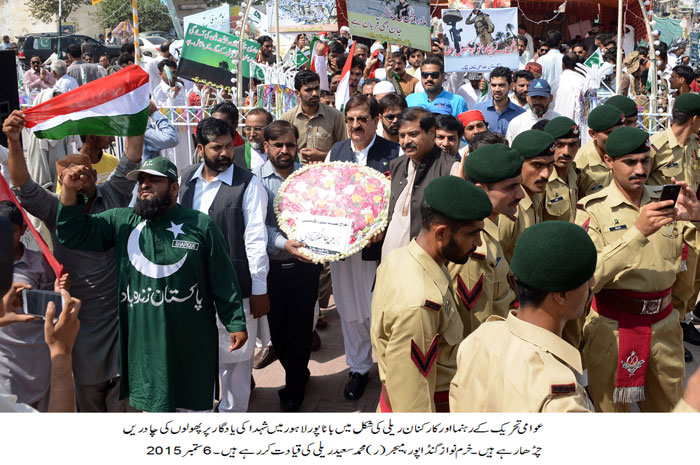 PAT Lahore chapter organized a rally from the central secretariat to the martyrs' monument at Batapur to pay tributes to the martyrs of 1965 war. A floral wreath was laid at the monument's site on behalf of PAT Chairman Dr Muhammad Tahir-ul-Qadri. Special prayers were made for the country's progress, prosperity and peace. A large number of motorcyclists were also part of the rally on the occasion. A large number of PAT workers attended the rally. PAT Secretary General Khurram Nawaz Gandapur and Chief Coordinator Major (r) Muhammad Saeed jointly led the rally.
Addressing the participants of the rally, Khurram Nawaz Gandapur said that the enemy knows it well that it is impossible to defeat a nation which is imbued with passion and determination. He said that it is for this reason that instead of attacking from the front, the enemy has always indulged in conspiracies to undermine Pakistan in a clandestine manner but suffered humiliation in the process.
Speaking on the occasion, Major (r) Muhammad Saeed said that the September 6 is a splendid day for reflection of patriotism, dedication, and commitment. He said that the unity displayed by the people and the armed forces of Pakistan was remarkable. He said that if anyone tried to cast an evil eye on Pakistan, he would meet a befitting response.
Raja Zahid, Sohail Raza, Sajid Bhatti and Sohail Alvi also spoke on the occasion.
A PAT delegation led by Sajid Bhatti and Sohail Raza laid a floral wreath at the monument of Major Aziz Bhatti Shaheed and made Dua there. Likewise, the delegations of the PAT Youth Wings visited eight cities visited the shrines of the martyrs and laid floral wreath there on behalf of Dr Muhammad Tahir-ul-Qadri.
Meanwhile, PAT and MQI leaders visited the grave of Major Shabbir Sharif Shaheed in Miani sahib Lahore and laid floral wreath. They prayed for peace, stability and progress of the country. The delegation consisted of Hafiz Ghulam Farid, Ch. Afzal Gujjar, Arif Chaudhry, Hafizullah Javed, Asghar Sajid, Mujahid Langrial Advocate, and Nasir Sultan.