Army Chief's address reflective of people's aspirations: PAT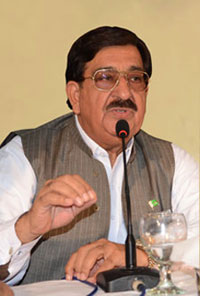 PAT Secretary General Khurram Nawaz Gandapur has described the Army Chief's address on the Defence Day of Pakistan as being reflective of the national aspirations and as the one, which gave courage and hope to the nation. He said that the way the Army Chief expressed his resolve for elimination of terrorism and strengthening the defence of the motherland, the nation congratulates him on this. He said that the people stand by their armed forces in their struggle to purge Pakistan of terrorism and make it a hub of peace.
Khurram Nawaz Gandapur said that it is after long time that the nation has celebrated the Defence Day of Pakistan in an upbeat mood and atmosphere of confidence. He said that the change in the national mood is the result of the sacrifices the armed forces have rendered in the fight against terrorism. He said that the way the forces have chased down the terrorists hiding in mountains and caves, it is hoped that it would move against the economic terrorists in the same manner. He said that economic terrorism is as lethal for the country as terrorism.