PAT fields Amir Fareed Koreja for NA-154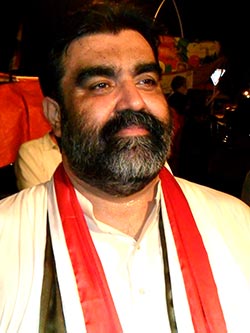 Announcing to take part in the upcoming by-elections in NA-154 Lodhran, Pakistan Awami Tehreek (PAT) has nominated Khawaja Amir Fareed Koreja, Pir of Kot Mitthan Sharif as its candidate. The central Core Committee of the party met yesterday to hold deliberations on the by and local bodies polls in which Amir Fareed Koreja was nominated as the PAT's candidate for NA-154. PAT Chairman Dr Muhammad Tahir-ul-Qadri has endorsed the recommendations of the party's central Core Committee.
The Core Committee, which met here at the party's central secretariat, was attended by Dr Hussain Mohi-ud-Din Qadri, Khurram Nawaz Gandapur, Major (r) Muhammad Saeed, Hanif Mustafvi, Khawaja Amir Fareed Koreja, Brig. (r) Mushtaq Ahmad, Bashrat Jaspal, Fayyaz Warriach, M Noorullah, Qazi Faiz-ul-Islam and Sajid Bhatti.
The meeting authorized the district level leadership of the party to go for seat adjustment with the like-minded parties and candidates in connection with the LG polls. The deliberations were also held on the Model Town tragedy case in great detail.
Speaking on the occasion, Dr Hussain Mohi-ud-Din Qadri said that a major development is likely to take place in connection with the Model Town tragedy. He said howsoever may be those who shed the blood of innocent people but they would not able to evade punishment. The participants of the meeting strongly condemned police baton-charge on the doctors and para medical staff in Islamabad and said that the rulers should stop considering Pakistan as jungle and the people as animals.
Expressing its extreme dismay and concern on the load-shedding and alleged corruption in Nandipur power project, it was said in the meeting that there is no accountability in the country. The meeting demanded that a Karachi-like operation clean-up should also be initiated in Punjab against corruption and crime mafia.
Expressing his views on the occasion, PAT Secretary General Khurram Nawaz Gandapur said that despite a clear announcement not to appeal against the Election Tribunal's decision, the PML-N's act of challenging the verdict in the Supreme Court is the defeat of the ruling party. He said that this decision has proven that the lion is wearing the skin of jackal.
Major (r) Muhammad Saeed, chief coordinator of PAT, said that the PML-N is mercilessly abusing the national resources in the local bodies and by-elections. He asked the Election Commission to take notice of this.
The meeting reviewed the reorganization of the party including the preparation of the party for the local bodies elections and finalization of panels. The Presidents of PAT South, Central and North chapters presented reports in connection with their level of preparedness and seat adjustments with the like-minded parties and candidates.