Pakistan's sacrifices in anti-terror war more than those of whole world: Dr Tahir-ul-Qadri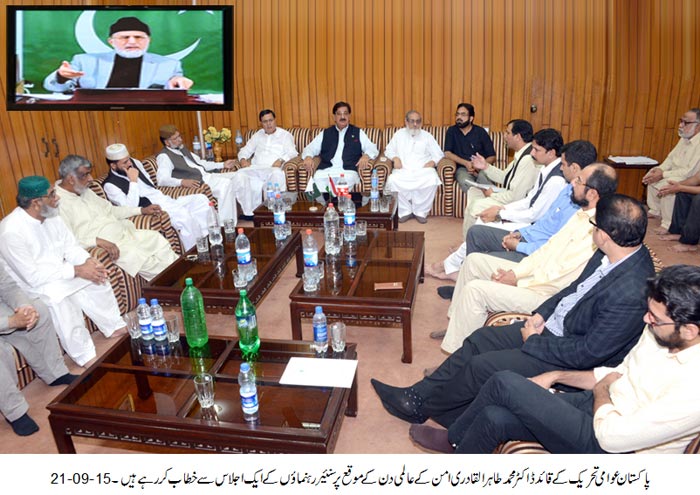 In his talk to the senior leaders of the party through video link on the occasion of the International Day of Peace, PAT Chairman Dr Muhammad Tahir-ul-Qadri has said that no country of the world can equal the extent and magnitude of sacrifices offered by the people of Pakistan in the war against terrorism. He said that even the whole world cannot equal the number of sacrifices rendered by the people of people. He said that since the war on terrorism started, more than fifty thousand Pakistanis have lost their lives in addition to an economic loss of $100 billion the country suffered. He said that the people of Pakistan deserve Nobel Peace Prize for these marvelous contributions and sacrifices for the establishment of world peace.
Dr Tahir-ul-Qadri said that the internal and external forces that changed Pakistan into a battle field for their political and economic interests should have a pause now and respect the sacrifices offered by the valiant nation. He said that the Operation Zarb-e-Azb has given the broken nation a new hope and confidence. He said that if the National Action Plan is implemented in letter and spirit, the terrorists would have no place to hide.
Dr Qadri said that every worker of the PAT and MQI is an ambassador of peace, adding that his party is working hard for promotion of peace, interfaith dialogue and harmony in the world. He said that Islamic Curriculum on Peace and Counter-Terrorism is meant for every country and every society. He said that our organization is conveying the message of peace in every nook and corner of the world.
Dr Tahir-ul-Qadri asked the world community to realize their responsibilities as well. He said that unless people in Kashmir, Palestine, Iraq, Syria and Afghanistan get their fundamental rights and their internal and external sovereignty is accepted from the heart, the clouds of war and terrorism will continue to hover over the world. He said that practical efforts should be made for establishment of durable peace in the world through the resolution of the disputes issues such as Kashmir.