Qamar Shah Gardezi and Umar Qureshi Advocate get positions in PAT Youth Wing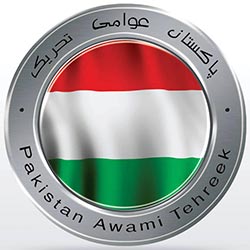 PAT Youth Wing President Mazhar Mahmood Alvi has appointed Syed Qamar Shah Gardezi as Secretary Political Affairs and Muhammad Umar Qureshi Advocate as central vice president. Syed Qamar Shah Gardezi, who held important positions of the party in the past, will be responsible for improving coordination and contact with other youth bodies besides working on political image building of the Wing. Muhammad Umar Qureshi will supervise the organizational matters of the Wing in Northern Punjab and Azad Kashmir.
PAT leaders Khurram Nawaz Gandapur, Major (r) Muhammad Saeed, Basharat Aziz Jaspal, Fayyaz Warraich, Sajid Bhatti, and Noorullah Siddiqui have congratulated Syed Qamar Shah Gardezi and Muhammad Umar Qureshi Advocate on their appointment as leaders of the PAT Youth Wing.