PAT urges government to provide information regarding missing Pakistani pilgrims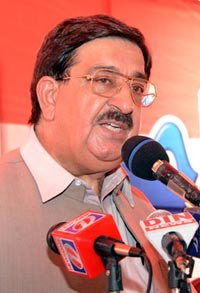 PAT Secretary General Khurram Nawaz Gandapur has said that the Eid was spent in grief and sorrow over the heart-wrenching and painful incident of stampede in Mina. He said that the whole nation is grieved over the martyrdom of Pakistani pilgrims, adding that the Pakistani embassy in Saudi Arabia failed to provide information on time. He said that no real figure of deaths has been shared so far causing unrest among the affected families.
The PAT Secretary General said that the foreign sources are of the view that more than 200 Pakistani pilgrims lost their lives in the stampede whereas the government is insistent that the figure is not more than 20/21 people. He said that martyrdom of 100 pilgrims constitutes a great tragedy requiring revision of standard operating procedures and making mid-course correction for upgraded training and safety measures during the performance of Hajj. He said that the possibility of similar incidents could only be warded off if necessary lessons are learnt and reforms brought about to make things better.
Khurram Nawaz Gandapur expressed his satisfaction on the responsiveness and quality of rescue services after the incident happened. He said that it is gratifying to learn that all rescue and medical services acted swiftly and in a coordinated manner. He said that it is a tragedy for the whole Muslim world on which everyone is hard-pressed and sad. He extended his heart-felt condolences to the bereaved families. He demanded of the government to furnish information regarding the missing Pakistani pilgrims as early as possible.