Police has gone berserk: Mrs Farah Naz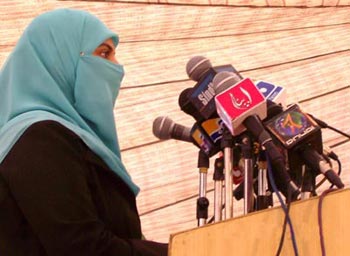 In her strongly worded reaction to the Gujrat police officials' act of pushing the goats under the raging train and getting them killed, Minhaj Women League President Mrs. Farah Naz has said that a police which has no conscience when it comes to killing the innocent human beings will have no problem in getting the animals crushed under the train. She said that ever animals would not mete out horrible treatment to the animals which was displayed by Gujrat police officials.
The Women League President said that the Punjab police is trained to take lives, not save them. She said that the same police sprayed bullets indiscriminately on the innocent people in Model Town, a tragedy of epic proportions in which 14 people were martyred and 85 others were injured including two women. She said that we are dearly missing our martyred sisters and brothers on the occasion of Eid. She said that it has been seven years since the Punjab Chief Minister has been taking notice of excesses, adding that had there been any real intent behind those notices, the lawlessness spawned by police would not have increased manifold.
Mrs. Farah Naz said that the Gujrat incident is not only maltreatment of the animals but also amounts to economic killings of the poor. She said that had this incident taken place in any civilized country, the people there would have taken the government to task for its failure to rein in the police. She however added in the same breath that a people who can play the role of spectators on the killings of 14 innocent people are not expected to protect rights of the animals.
She demanded that the property of the police officials involved in this heinous crime should be sold off to compensate for the loss of the affected owner of the goats. She also urged the need of community policing and hiring the services of the foreign experts to cure psychological ills of the diseased mindsets in police.