No allegation against any MQI worker regarding forcible collection of hided: Allama Farhat Abbas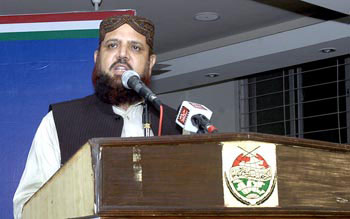 Allama Farhat Hussain Shah, President of Minhaj-ul-Quran Ulama Council and Syed Amjad Ali Shah, Director of Minhaj Welfare Foundation, have asked the government not to target such welfare organizations that have transparent record of promoting peace and service of humanity. They said that owing to restricted permission for collection of skins of the sacrificial animals during the current year, a dozen of welfare projects such as provision of free education, maintenance of the orphan children, supply of clean drinking water in Thar and Cholistan the provision of jobs to the skilled workforce are likely to be severely affected.
Allama Farhat Abbas Shah said that the teachings of Dr Tahir-ul-Qadri are free of coercion and the element of force. He said that we are peace-loving people and law abiding people. He said that there is not even a single allegation against any worker of the MQI regarding forcibly collecting hides throughout the country. He asked the government to differentiate between those who spread mischief and those who are promoting love and brotherhood in the society. He said that the policy of dealing with all with the same brush is misplaced.
Syed Amjad Shah said that the District Coordination Officers allowed establishment of camps at few places in the province as a result of which the workers living in far-flung areas could not transport thousands of hides to the central secretariat owing the official ban. He said that despite inhospitable conditions, 1500 animals were slaughtered under the banner of MWF in Lahore whose meat was distributed among the 25000 deserving people. He said that every single penny of donations is spent on welfare of the humanity and thousands of children are getting free education in the educational institutions run by the MQI. He invited the government and civil society institutions to check the welfare projects and the quality of services being offered with their own eyes. He said that dozens of welfare projects are being adversely affected due to unjustified bans and punitive actions.