PAT demands immediate withdrawal of hike in electricity tariff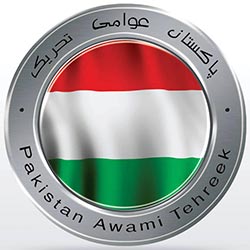 Pakistan Awami Tehreek (PAT) has strongly reacted to the approval of hike in power tariff by NEPRA. It has asked the government to withdraw the proposed hike and make all secret agreements it had signed with the IMF public. It said that the country is being sold for loans.
These views were expressed by PAT Secretary General Khurram Nawaz Gandapur, PAT candidate for NA-154 Amir Fareed Korjea and PP-147 Ishtiaq Chaudhry Advocate while talking to the workers the other day.
They said that the prices of the POL products went as much down as 40% in the world but the government, instead of providing relief to the masses, has been fleecing them. He said that hike in tariff approved by NEPRA will put an additional burden of Rs. 21 billion on the consumers, an increase people can ill-afford.
Speaking on the occasion, Khurram Nawaz Gandapur said that the rulers, who are so beholden to the diktat from the IMF, are mortgaging the people in addition to selling the state owned entities.
Khawaja Amir Fareed Koreja said that the payment of the circular debt is the safest way of loot and plunder of the ruling party. He said that the power distribution companies, and incompetent rulers, not the masses, are responsible for recurring phenomenon of circular debts. He said that incompetent ministers for water and power have made life of 190 people miserable.
The PAT leaders said that the recent hike in electricity tariff is a proper invitation to the masses to come to the streets for agitation. They said that instead of shifting burden on the people, the Prime Minister should cut down his foreign visits and the government should reduce its extravagant expenditure.