Collective sacrifice 2015 held under MWF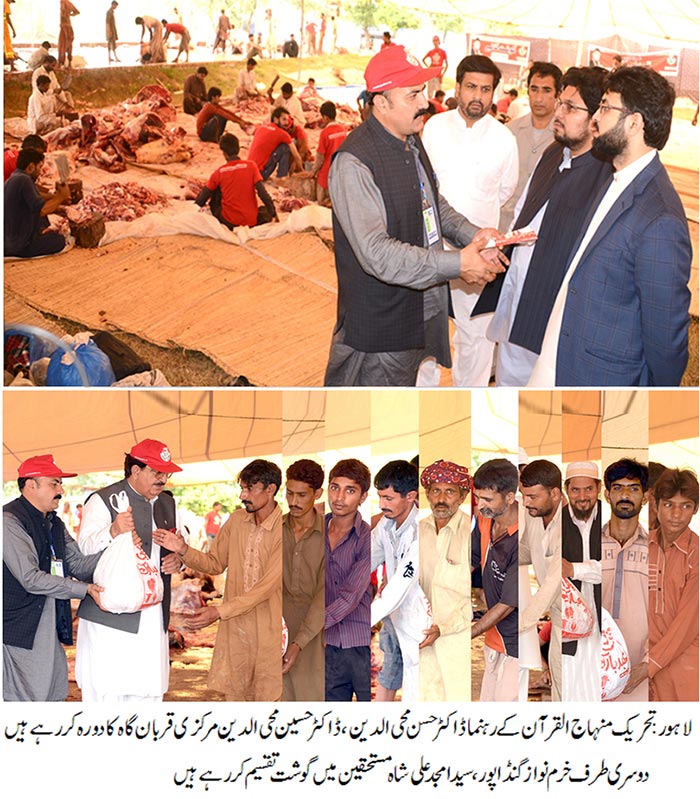 Minhaj Welfare Foundation offered collective sacrifice of animals throughout the country on the occasion of Eid-ul-Azha like the previous years. The meat of the sacrificed animals was distributed among the deserving people.
Meanwhile, chairman of MQI Supreme Council Dr Hassan Mohi-ud-Din Qadri and MQI Federal Council President Dr Hussain Mohi-ud-Din Qadri visited the central altar in the Lahore city and felicitated Syed Amjad Ali Shah and other workers on making excellent arrangements.
Briefing the top MQI leaders, Syed Amjad Ali Shah said that more than 1500 animals were slaughtered under the banner of Minhaj Welfare Foundation in Lahore. He said that their meat was distributed among the 25000 deserving people in accordance with the laid down principles of hygiene. He said that the best arrangements were in place to clear the altar of post-slaughter dirt.
Syed Amjad Shah further said that more than on this Eid-ul-Azha 50,000 animals were slaughtered in different countries including Pakistan, Africa, European countries, India, Bangladesh, Somalia and Kenya under the aegis of Minhaj Welfare Foundation and their meat was distributed among one million people. Senior PAT and MQI leaders Khurram Nawaz Gandapur, Brig. (r ) Muhammad Iqbal, Amjad Ali Shah, GM Malik and other leaders distributed the meat among the poor and deserving people during all the three days of Eid.
Talking to media during his visit to the altar, Dr Hassan Mohi-ud-Din Qadri said that the Eid days are meant for winning pleasure of Allah and distributing happiness among the less privileged sections of society. He said that it is due to such blessed days that Islam is distinguished and honorable than other religions. He said that there is a need to promote the concept of collective sacrifice so that people with limited income could be facilitated to perform the sacrifice. He said that the thousands of the workers took part in making collective sacrifice a great success. He also announced to confer shields and appreciation letters on the workers who dedicated their three days of Eid in the service of Islam and humanity.