Hearts devoid of love for Prophet's Household are dead hearts: Dr Tahir-ul-Qadri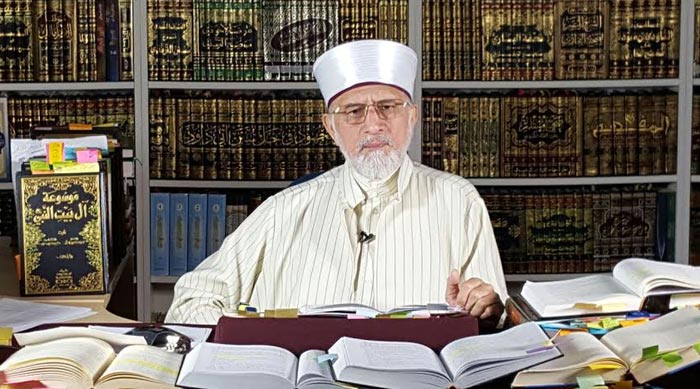 Addressing the 'Pegham e Imam e Hussain's Conference' live from Toronto through video link, PAT Chairman Dr Muhammad Tahir-ul-Qadri has said that a heart, which is devoid of love for the Prophet's household and grief for the sacrifices rendered in the plains of Karbla is dead and devoid of faith. He asked the youth to reconnect themselves to philosophy of Hazrat Imam Hussain (A.S). He said that the family of the Holy Prophet (SAW) inflicted an eternal defeat on the oppressors by rendering the ultimate sacrifice of their lives. He said that the youth belonging to the Muslim world should study the life, philosophy and teachings of the great Imam and try to mould their lives accordingly.
Dr Hassan Mohi-ud-Din Qadri, Chairman of MQI Supreme Council, Akbar Barkhudari, Director General of Khan-e-Farhang, Aaqai Ustad Abbas Bahishti, Faiz-ur-Rehman Durrani, Khurram Nawaz Gandapur, Ahmad Nawaz Anjum, GM Malik and other senior leaders of PAT and MQI were also present on the occasion. A large number of people belonging to various walks of life attended the Conference. The Naat-khawan paid rich tributes in the honour of Hazrat Imam Hussain in their 'manqabat' on the occasion.
Dr Tahir-ul-Qadri said that martyrdom has a lofty status and is a valuable blessing of Allah Almighty and He confers this special honour on His blessed people. He said that the pious and holy people belonging to the family of the Holy Prophet (SAW) are the blessed people.
The PAT Chairman strongly condemned the bomb blast in a Muharram procession in Jacobabad and expressed his deep sense of grief and sorrow on the loss of precious lives. He said that the terrorist incident happened due to lapse of security and negligence of the rulers.
Addressing the Conference, Chairman Supreme Council of MQI Dr Hassan Mohi-ud-Din Qadri said that the matchless struggle and supreme sacrifice of Hazrat Imam e Hussain (A.S) was against dynastic way of life, and absolute dictatorship. He said that the symbolism of the epoch of Karbala is for the Muslims till the day of Judgment, adding that the message we get from it is that those who get power in the name of Islam and disfigure the teachings of the Holy Prophet (SAW) should be resisted. He said that the sacrifice rendered by Imam e Hussain (A.S) is a beacon of light and source of salvation for every youth.
Dr Hassan welcomed all the respected guests on their arrival at the central secretariat of the MQI. He also appreciated the brotherly country of Iran for its services to Pakistan. Other speakers also paid rich tributes to Hazrat Imam e Hussain (A.S) in their speeches.