PAT requests CJP to take notice of news item about Model Town tragedy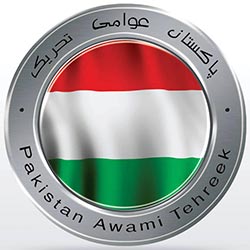 A spokesperson of Pakistan Awami Tehreek (PAT) has expressed his serious concern on a news item published in a foreign newspaper that while quoting police sources opined that the FIR lodged by families of martyrs of Model Town tragedy has been shelved. He said that the news item has caused extreme anger among the family members of the martyrs and hundreds of thousands of workers of PAT around the world.
The spokesperson appealed to the Chief Justice of Pakistan to take notice of the said news item published in a foreign paper, for Model Town tragedy is the worst example of the state terrorism and violation of the fundamental rights by the sitting government. He said that the clipping of the said news item has been dispatched to the honourable Chief Justice. He said that according to the paper, all those nominated by the family members of the martyrs in the FIR including the PM and the CM have been declared to be innocent in the light of the JIT report consisting of the representatives of the Punjab police.
The spokesperson said that the innocent workers of PAT were bathed in blood on the instructions of the highest public office holders on June 17, 2014 in Model Town whose irrefutable proofs are available. He said that no power of the world can twist facts and conceal truth.