Sheikh Rashid calls on Dr Tahir-ul-Qadri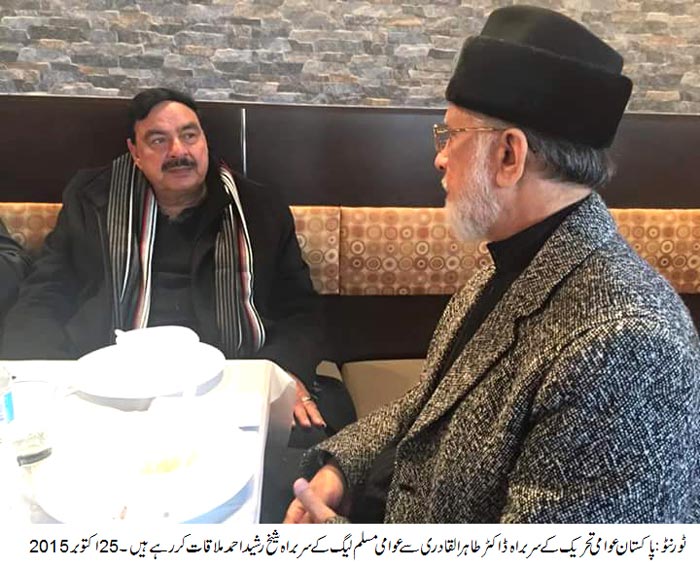 Sheikh Rashid, the head of Awami Muslim League, called on PAT Chairman Dr Muhammad Tahir-ul-Qadri yesterday in Toronto. Both leaders discussed matters of mutual interest including prevailing political situation in the country.
Speaking on the occasion, Dr Tahir-ul-Qadri said that the rulers combining business with power have destroyed the country. He said that the current version of democracy is only protecting the vested interests of the powerful elite, adding it explains why the rulers want to keep the status quo intact. He said that the whole nation will have to come out against the oppressive system tomorrow if not today. He said that the sit-in shook the foundations of the oppressive system, adding that one more push of the masses would bring it down.
Dr Tahir-ul-Qadri said that the US authorities put their seal of failure on the Prime Minister's visit to the US when they advised Pakistan to resolve its problems itself. He said that the US wants to directly engage with the military even now. He said that the Prime Minister visited London in fact where he has vast business empire. He said that great oppression was committed in Model Town and the height of brutality is that the oppressed have been indicted at the behest of the rulers, adding that those who killed innocent people will not be able to get away with their crimes.