Uproot intellectual roots of terrorism: Dr Hassan Mohi-ud-Din Qadri asks government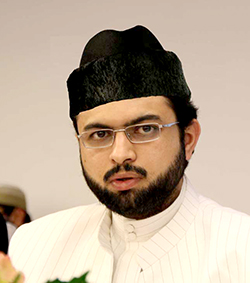 Dr Hassan Mohi-ud-Din Qadri, Chairman of MQI Supreme Council, has said that the news regarding some female students traveling to Syria and Iraq to join ISIS are both startling and worrying. He said that lights will return to the country not by launching power projects on paper but by eliminating terrorism. He said that Islamic Curriculum on Peace and Counter-Terrorism designed by Dr Tahir-ul-Qadri should be benefited from by getting rid of prejudice as the curriculum has the potential of furnishing intellectual guidance to the youth. He asked the Prime Minister to refrain from generating new intellectual controversy by opening Pandora Box about liberalism for the sake of political interests.
Dr Hassan Mohi-ud-Din Qadri expressed these views while addressing a consultative meeting of the senior PAT and MQI leaders at the central secretariat yesterday. He said that the PAT Chairman had indicated long time ago that a combination of bad governance, corruption and nexus with the banned outfits will deprive the nation of the benefits of the Operation Zarb-e-Azb and phenomenal successes achieved by the Pakistan military in caves and mountains will be lost in political planes. He said that these apprehensions are proving to be true and institutions are testifying to these realities.
MQI Supreme Council Chairman said that curriculum promoting peace and shunning terrorism is not taught at any religious seminary in Pakistan. He said that unless the intellectual roots of terrorism are uprooted, the epidemic will continue to extend its tentacles. He said that reforms in curriculum were part of the National Action Plan, which has not been included in the priority list of the government despite passage of one year. He said that the Prime Minister's statement about liberalism is a reflection of his lack of knowledge about Pakistan's ideology as his statement is against Article 65 of the Constitution. He said that it is tragedy that the guardians of capitalistic system are misleading the nation on account of their lack of understanding of Pakistan ideology.
Dr Hassan Mohi-ud-Din Qadri said that Dr Tahir-ul-Qadri presented a comprehensive Islamic Curriculum on Peace and Counter-Terrorism one year ago with an express aim to turn the youth and students away from extremist tendencies. He said that the western world is benefiting from this curriculum whereas it has fallen prey to prejudice and bias of the rulers in Pakistan. He invited the educated elite of the country including the civil society organizations to go through the curriculum. He said that terrorism is not a problem peculiar to any nation, sect or a country. Rather it is a global issue requiring concerted response. He strongly condemned acts of terrorism in Paris.