Sikh pilgrims are accorded highest respect in Pakistan: Sohail Raza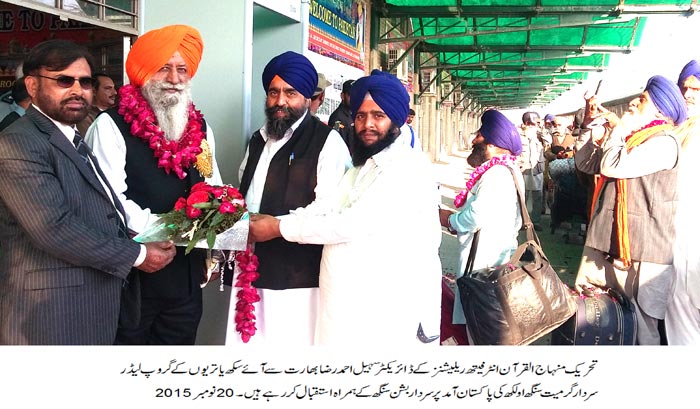 Sohail Ahmad Raza, Director of MQI Interfaith Relations, has said that the followers of Baba Guru Nanak, the founder of Sikh religion, are held in high esteem here in Pakistan. He said that Sikh pilgrims coming from across the world including India for attendance of birthday anniversary of their spiritual leader get the red-carpet welcome. He said that Pakistan is included among countries where minority communities are meted out excellent treatment and enjoy complete religious freedom. He said that protection and security of sacred worship places of Sikhs is our national and religious responsibility.
Sohail Ahmad Raza expressed these views while talking to a delegation of Sikh pilgrims at Wahga borders who came to Pakistan to attend the birthday anniversary of Baba Guru Nanak. Pakistani Sikh leaders Sardar Bishan Singh, Sardar Kalyan Singh, Sardar Sarjeet Singh and others were also present on the occasion. He said that PAT is working for promotion of interfaith dialogue and harmony. He said that PAT Chairman Dr Tahir-ul-Qadri is known as ambassador of peace in the world due to his work and contributions for promotion of interfaith harmony, love and peace in the world.
Sikh pilgrims are accorded highest respect in Pakistan: Sohail Razahttp://www.interfaithrelations.com/english/tid/34767/Sikh-pilgrims-are-accorded-highest-respect-in-Pakistan-Sohail-Raza.html

Posted by Interfaith Relations on Tuesday, November 24, 2015