Promotion of knowledge key to defeating terrorism, extremism: Dr Hussain Mohi-ud-Din Qadri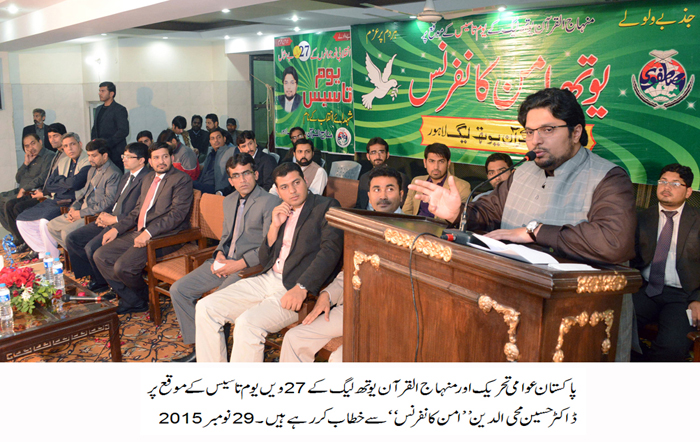 Addressing the Youth Peace Conference, Dr Hussain Mohi-ud-Din Qadri, President of MQI Federal Council, has said that the youth should make Operation Zarb-e-Azb successful by launching Operation Zarb-e-Ilm. He said that these are not the roads, bridges and motorways that make nations, adding that promotion of knowledge and arts do. He said that incompetent political leadership and ignorance generated terrorism, injustice and intolerance. He said that heavy responsibility falls on the shoulders of the youth to crush terrorism and extremism.
Central MYL President Mazhar Alvi, Mansoor Qasim Awan, Shoaib Tahir, Mansoor Bilal, Inam Mustafavi, Asmat Ali, Shahzad Naqvi, Raja Zahid Mahmood, Ms. Farah Naz, and Nasir Mustafavi also spoke on the occasion.
The Conference was the high point of foundation-day ceremonies of Minhaj-ul-Quran Youth League. The event was attended by the youth leaders from across the country.
Dr Hussain Mohi-ud-Din Qadri said that as long as the Muslims strived for acquisition of knowledge and stayed connected with the pivot of research and critical inquiry, they continued to lead the world in various walks of life. He said that the day they turned their back on knowledge, they have fallen prey to various crises chief being that of terrorism and extremism. He said that the nation looked up to the youth to turn the tide and restore the lost glory. He said that the best way to win the war against terrorism and extremism is to hold afloat the banner of knowledge and peace.
The President of MQI Federal Council said that Dr Tahir-ul-Qadri tops the list of those who raised effective voice against the forces of terrorism, militancy, hatred and violence. He said that Dr Qadri launched a 600-page document to protect the youth from the mischief of 'Khawarij', which won applause from around the world. He said that the PAT Chairman also launched Islamic Curriculum on Peace and Counter-Terrorism to promote Islamic message of peace among the world in general and the Muslim youth in particular and defeat militant and extremist attitudes. He asked the youth to defeat extremism by acquiring productive knowledge.
Dr Hussain Mohi-ud-Din Qadri said that MQI is a global organization struggling for promotion of peace, interfaith dialogue and harmony through its vast network. He said that character-building of the youth is on the top of MQI initiatives.
MYL President Mazhar Alvi said that PAT Youth Wing and MQI have been making consistent efforts to bring about positive changes in the lives of the youth and promote peace and harmony in the world. He said that the Youth Wing stands by its armed forces in their struggle against terrorism and extremism. He said that we would prepare the youth on ideological basis against terrorism so that peace and stability could be established in the country.