PAT issues fact sheet on law & order situation in Punjab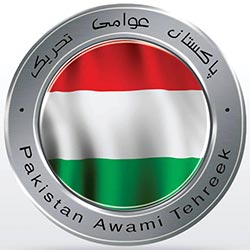 Releasing the fact sheet on the law and order situation in Punjab, PAT Punjab has said that ten thousand crimes are committed on daily basis in the province whereas the number of crimes committed on annual basis is 3.6 million. More than three lacs crimes of serious nature were committed during first ten months of the current year. Peace in Karachi has returned but Lahore has become hub of crime. The Prosecution Department, which is responsible for getting the elements involved in heinous crimes, punished is on strike. In a report submitted to the National Assembly Secretariat, the Interior Ministry has admitted to increase in ratio of crimes in Punjab.
The fact sheet was launched by PAT Chief Coordinator Major (r ) Muhammad Saeed Rajput, Fayyaz Warraich, Basharat Jaspal and Brig (r ) Mushtaq in a meeting here today in Lahore.
The fact sheet revealed that the robbers snatch hefty sum of well over 15 million from citizens every day. About 300 to 400 hits of robberies are being committed in Lahore alone on a daily basis. It was revealed that while crime rate is decreasing in Karachi, it is increasing in Lahore.
The leaders underlined the need of Karachi-like operation in Lahore to root out crime from the provincial metropolis. They said that crimes such as blind murders, confiscation of lands, and exhortation are taking place in greater number in Lahore than anywhere in the country. They further said that Rs. 100 billion of nation's hard-earned money is being spent on police but it is used to harass political opponents and get electoral results of one's liking.
The fact sheet made startling revelations. It said that more than 3 lacs offences of serious nature were committed in Punjab during first ten months of current year in which 260 citizens were killed during these crimes. 11000 incidents of kidnapping took place. 769 incidents of blind murder were also committed. 2341 women were subjected to rape whereas 182 women were gang-raped. 4200 citizens were killed and 18000 were injured in fights and familial enmities.
The leaders said that Punjab seems to have become a region with no writ of the government. They said that 55000 out-laws are on the loose whereas those belonging to Lahore are 22000, adding that police has failed to arrest them.