Desire for change among people real: Syeda Abida Hussain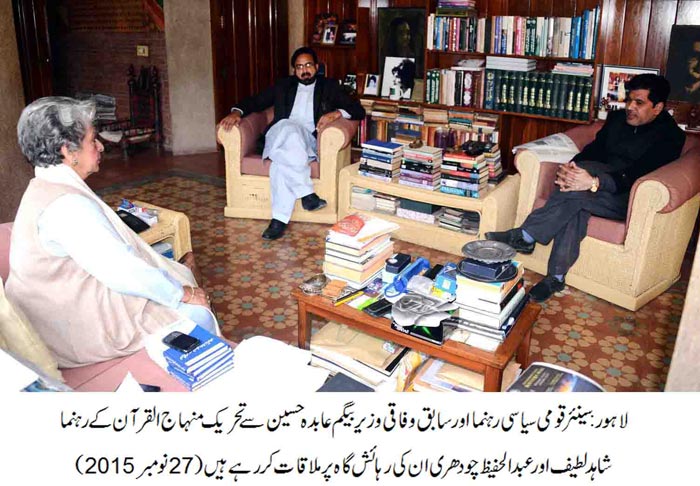 Former Federal Education Minister and senior politician Begum Syeda Abida Hussain has said that people want change and she can see it happening. She said that as for as the methodology is concerned, it would come to the fore soon. She said that failure to promote education is rulers' biggest failure. She said that the Model Town tragedy is the worst act of terrorism of its kind. She said that it is her and her husband, Syed Fakhar Imam's demand that Islamic Curriculum on Peace and Counter-Terrorism designed by Dr Tahir-ul-Qadri should be taught in educational institutions. She said that the services of MQI in the fields of knowledge, research and welfare are praiseworthy.
Syeda Abida Hussain expressed these views while talking to PAT leaders Shahid Latif and Abdul Hafeez Chaudhry who called on her at her residence yesterday. She said that the way effort is being made to run the country is a non-starter. She said that a leadership afflicted with charges of corruption can neither bring the country out of crises nor can enjoy any credibility or trust in the eyes of the people. She said that terrorism is undermining the foundations of the country. She said that law and order situation has improved as a result of Operation Zarb-e-Azb but the people at large will remain deprived of its benefits as long as reforms are not brought about on the governance front.
Syeda Abida Hussain said that education and health are the most important sectors in a development matrix of any country. She added in the same breath that the current rulers have failed miserably in providing health and educational facilities to the masses. She said that the Model Town tragedy is the worst ever tragedy of her political career. She said that a state which is duty bound to protect its citizens killed fourteen of them on June 17, 2014 without any reason. She said neither will this blood go in vain nor it should. He said that every citizen of the country would have to play his/her role to get justice for the families of those martyred in Model Town.
Begum Abida Hussain sought information from the PAT delegates about health of Dr Tahir-ul-Qadri and expressed her best wishes for him. The delegation extended her an invitation to visit the central secretariat of MQI and Aagosh i.e. Orphan Home Care, which she accepted.